Kering, Parent Company of Gucci and YSL, Addresses Trump's Immigration Ban
François-Henri Pinault took to Kering's Twitter account to repledge his company's commitment to diversity.
---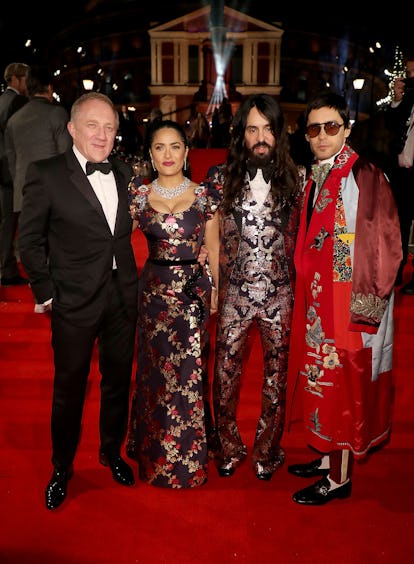 Mike Marsland
Despite the Republican party's reputation for being business friendly, and increasing number of corporations are speaking out against Republican President Donald Trump's recent executive order that puts a halt to nationals from seven Muslim-majority nations entering the United States for 120 days. In the past week, both Nike and Adidas, plus a handful of tech companies like Airbnb have their concerns with the controversial order and how it affects both their corporate values and their immigrant employees.
Now, one of fashion's biggest corporate players seems to be joining in.
Kering's chief executive and chairman François-Henri Pinault took to the company's Twitter to pledge his company's commitment to diversity, though the messages did not address Trump or his actions specifically. Rather, he referred to the fact that the political climate seems to be putting "diversity at stake." Trump may be the global focus at the moment, but there are politicians across Europe that seem to be gaining strength by spouting similar views as well. Notably, in Kering's home country of France far right politician Marine Le Pen seems poised to make a strong showing in the nation's next presidential election.
Here's Pinault's two tweets:
Gucci, Yves Saint Laurent, Balenciaga, Alexander McQueen, Stella McCartney and Bottega Veneta are among the labels owned by Kering. Notably, the corporation also has a majority stake in Puma, one of Nike and Adidas' main competitors.
Kering also funds the Kering Foundation, an organization that seeks to end violence against women while championing female empowerment across the globe. The company itself has also long committed to socially, economically and environmentally ethical practices. WWD, which confirmed the tweets reflected Pinault's views, points out that it is also one of the top 25 most diverse and inclusive publicly traded companies in the entire world.
In light of Trump's rhetoric, it's also worth noting that Pinault has been married to Mexican-born actress Salma Hayek Pinault since 2009. Hayek, a supporter of Hillary Clinton, was outspoken against Trump throughout the campaign.
"He calls us criminals—but who is the one who has a…lawsuit for the [Trump] University?" Hayek Pinault said during a campaign press call.
Pinault meanwhile has long committed to using his company's power to good for social and environmental causes. "A business that ignores these issues, I don't see how it can be relevant in its economic activity," Pinault told W in 2008. "It's a reality that if we continue the same practices vis-a-vis the environment, we will have a catastrophe. Everyone must react."
Watch W's Most Popular Videos: