Ariana Grande Will Address Those Breakup Rumors When She Feels Like It
She's always been one to respond at her own pace and in her own time.
---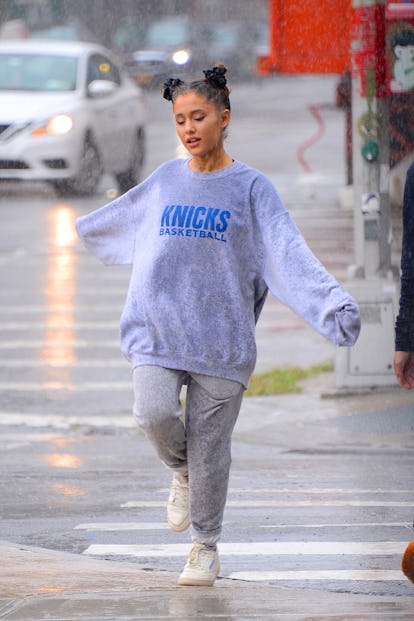 Robert Kamau
By now, you have probably heard that the flame between Ariana Grande and Pete Davidson has, reportedly, fizzled out. On Sunday evening, it was reported that the comedian and the pop superstar had called off their engagement and broken up, despite being spotted together at Saturday Night Live the evening before.
While the breakup remains to be confirmed by either party of the relationship, multiple celebrity news outlets are certain that the couple had been gearing to split up for at least a couple of weeks. In the past two years, Grande has been through a lot—breakups, an engagement, the sudden passing of an ex, a terrorist attack at her concert in Manchester—and her summer album, sweetener, is her open letter to her fans about the trauma and stress she has experienced, which was induced by some of those incidents. One might think, given Grande's track record of replying to her fans on Twitter and addressing her Instagram comments directly, that she would post something about her alleged breakup from Davidson. Grande, however, will respond to the rumors in her own time and at her own pace.
Before taking a moment to address any details or rumors about calling off her engagement to Davidson and breaking up over the weekend, Grande would sooner remind the world that she is a theater kid at heart, by posting a screenshot of the lyrics to "The Wizard and I," a track from the popular Broadway musical Wicked. The pop star is slated to perform for Wicked's 15th anniversary, during a televised special on NBC that will "showcase a cavalcade of special guest stars to help celebrate the music and the magic of the show that tells the story of what happened in Oz before Dorothy dropped in."
After canceling a handful of performances in order to give herself some time to recover from the past few months, Grande will join Idina Menzel and Kristin Chenoweth—the original cast members of the Broadway musical—as well as Pentatonix and the current cast of the show. The performance coincides with Halloween, notably one of Grande's favorite holidays. Grande stated on Instagram that she is "honored to be included in this celebration of 15 years of my favorite musical of all time ? wouldn't miss it for the whole universe #wicked15."
In September, after her ex-boyfriend Mac Miller passed away, she understandably waited a few days before responding directly and sharing footage of Miller on her Instagram, along with a heartfelt message dedicated to him. In October, she explained to fans questioning why she has a pet pig that the pet is "an emotional support pig," via Twitter. Just as she has been one to handle her business on her own terms before, Grande is moving on from her current relationship with Davidson at her own pace, and real fans know she will directly address it in due time.
Related: Ariana Grande Has Mixed Feelings About Going Back on Tour