Ariana Grande's Childhood Was Beyond Goth
In a departure from Pete Davidson–related news, the singer's mom reminisced on, um, the blood the Grandes used to smear on the walls of their household.
---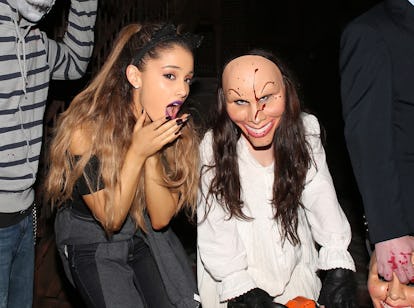 Jones Crow/Universal Orlando Resort/Getty Images
It might be something of a blessing that when Elle spoke to Ariana Grande for the magazine's August cover story, it was before her whirlwind engagement to Pete Davidson—providing not only a break from the nonstop news about the couple, but also shedding light into aspects of her life that we likely would never have known about otherwise. Like, um, the role the butcher played in her childhood.
In addition to interviewing Grande, Elle also spoke with her 92-year-old grandmother, who prepped readers for the darkness to come with a bit of a warning about the Grande family: "It's the Italian thing; we have the dark humor." That becomes crystal clear when Grande's mother, Joan, a CEO who happens to have more than 300,000 Twitter followers, and whom Ariana has previously described as "the most badass, independent woman you'll ever meet," began talking on the record. (For her part, Joan described herself to Elle as "goth before goth was goth.")
As it turns out, none of the three generations of Grandes were exaggerating. Joan celebrated Ariana's fourth birthday, for example, by throwing her a Jaws-themed birthday party. It was apparently Ariana's favorite movie, though it didn't go over so well with the guests: "Most of the kids were running, screaming, because I had Jaws playing on a huge screen," Joan reminisced to Elle. "The parents were like, 'Are you crazy? Our kids don't watch that!' But it was [Ariana's] favorite movie."
That wasn't all Joan did to, as Elle put it, "make the macabre fun" for Ariana and her brother, Frankie, while she was raising them in Boca Raton, Florida. True to Joan's celebration style, she held Halloween to even higher standards as a holiday than Christmas. Obviously, things went beyond candy—and even much further beyond, say, Jason Voorhees ski masks. Indeed, it sounds as if the Grandes didn't just get to that level around October but all year-round: "I did the house up in things that would give normal children nightmares," Joan added. For example: "I would go to the butcher, get heart organs or lungs, and then be like, 'Ariana, Frankie, this is a heart.'"
Her trips to the butcher also allowed for the children to exercise their creativity. "The kids would paint blood on the walls," Joan added, in what we promise is the last squeamish thing you'll be reading here. Well, except for another rather heartwarming detail, blood notwithstanding. "I remember Ariana's little handprints," Joan concluded.
Related: Ariana Grande Wears Sweatshirt With Pete Davidson's Face on It
From Justin Bieber and Hailey Baldwin to Britney and K-Fed: 15 Celebrities Who Became Engaged Before Turning 25
Justin Bieber, age 24, became engaged to Hailey Baldwin, age 21, on July 8, 2018. Photo courtesy of Getty Images.

Photo courtesy of Getty Images.
A week before turning 25, Ariana Grande became engaged to Pete Davidson on June 21, 2018. Photo courtesy of Getty Images.

Gotham
Sophie Turner, age 22, became engaged to Joe Jonas on November 4, 2017. Photo courtesy of Getty Images.

Pressphotodirect/Bauer-Griffin
At 20 years old, Zayn Malik became engaged to Perrie Edwards, also 20 years old, in August 2013. Photo courtesy of Getty Images.

Desiree Navarro
At 22 years old, Liam Hemsworth proposed to Miley Cyrus, then just 20 years old, in May 2012. Photo courtesy of Getty Images.

Kevin Winter
Kim Kardashian became engaged and married to music producer Damon Thomas in January 2000 at the age of 19. Photo courtesy of Getty Images.

Ethan Miller
On June 7, 2003, Olivia Wilde, then 19 years old, married Italian filmmaker, Prince Tao Ruspoli. Photo courtesy of Getty Images.

Donato Sardella
Christina Aguilera became engaged to record executive Jordan Bratman at 24 years old in February 2007. Photo courtesy of Getty Images.

John Shearer
In July 2004, Britney Spears was 23 years old when she became engaged to backup dancer Kevin Federline. This was just seven months after her first marriage to Jason Allen Alexander, which lasted 55 hours in January 2004. Photo courtesy of Getty Images.

L. Busacca
In 2002, at the age of 21, Paris Hilton became engaged to fashion model Jason Shaw. Photo courtesy of Getty Images.

Ron Galella, Ltd.
At 21 years old, Kate Hudson married musician Chris Robinson, on December 21, 2000. Photo courtesy of Getty Images.

RJ Capak
Patrick Dempsey, at age 21, married his acting coach, Rocky Parker, age 47, on August 24, 1987. Photo courtesy of Getty Images.

Jim Smeal
At 21 and 24 years old, Reese Witherspoon and Ryan Phillippe became engaged in December of 1998. They later married in 1999. Photo courtesy of Getty Images.

Victor Malafronte
Actress Drew Barrymore, age 19, married Jeremy Thomas, bar owner, on March 20, 1994. Photo courtesy of Getty Images.

Barry King
Angelina Jolie, age 21, and Johnny Lee Miller, age 24, married in March 1996. Photo courtesy of Getty Images.

Gregory Pace