Ariana Grande Has Mixed Feelings About Going Back on Tour
"hi i'm being too honest and people r gonna tear me apart but idc anymore. lol."
---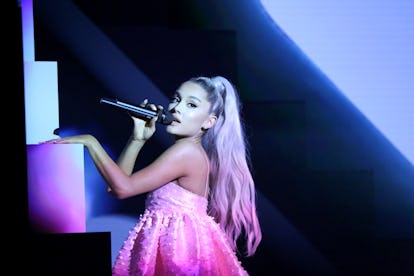 NBC
It's been a tough month for Ariana Grande: The singer is coping with the sudden death of her ex-boyfriend, Mac Miller, who passed away from an apparent overdose on September 7. Several days after the news broke, Grande's reps released a statement saying she was taking time to "heal and mend" and "staying close to home." Since then, she's kept her fans updated on Twitter, recently admitting to them that she's trying to get "back to normal" after everything that's happened. "It's hard and I'm human and tired," she tweeted.
One thing Grande's fans are curious about is whether or not she plans to go on tour for her Sweetener album. Her aforementioned statement suggests that probably won't be happening for a while, but on Friday Grande admitted via Twitter that she has mixed emotions about hitting the road again.
"I'm antsy. can't sit still," she wrote. "I wanna tour now. Yesterday I [just] wanted to sit home forever but today I wanna do shows and see [you]."
A fan replied to Grande's tweet urging her to just do what will make her the happiest. "We don't want you to go on tour and then regret it," they said, to which Grande responded, "I'd never regret it. My happiest moments are with y'all and on stage and stuff. I think it's just the [long] chunks of time away from home that are scary to me."
The singer continued, "Maybe I'll do a mini [tour]. I can't do what I did last time right now. That I do know. Whatever it is, I hope it's okay with you. I just love and miss you. Everybody telling me I need to take time but I'm so antsy." (Grande's referring to her Dangerous Woman Tour from 2017, which included the stop in Manchester.)
On Thursday (September 27), Grande worried fans when she tweeted how she just wants one "okay day." "I'm so tired," she added.
The next day, she sent out a message apologizing to anyone who felt concern—not that she needed to do that.
"[Just] had a human moment and wanted to confide. [You] know how much I love you," she wrote. "On some real life shit."
Grande was originally scheduled to perform on the season 44 premiere of SNL on Saturday night, but the show's creator Lorne Michaels revealed on a podcast that Grande dropped out for "emotional reasons" and was replaced with Kanye West.
Related: Ariana Grande Was "Unbelievably Involved" in Supporting Mac Miller's Sobriety, Says the Late Artist's Friend