Post–Pete Davidson Ariana Grande Is Back in the Public Eye, Only to "Say Bye Bye" to the Internet
"It's very sad and we're all tryin very hard to keep going," she posted (and since deleted).
---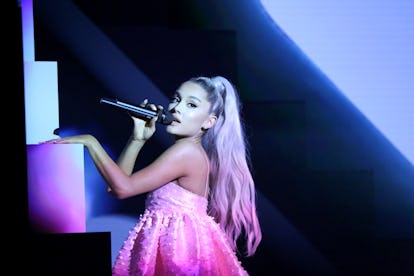 NBC
Complete with glittery green lipstick, on Tuesday night Ariana Grande made her first public appearance since news broke that she and Pete Davidson had broken off their whirlwind engagement and relationship, reportedly because it had been making her feel too rushed. As much as she has appeared to focus on maintaining her privacy since, on Tuesday Grande had a job to do: belting out the song "The Wizard and I," ahead of NBC's upcoming televised special in honor of the 15th anniversary of the musical Wicked, just in time for one of her longtime favorite holidays, Halloween.
While Grande has yet to directly address or confirm the breakup, she notably took the stage sans her $93,000 engagement ring, which she's reportedly returned to Davidson (fortunately, she appears to have maintained custody of the pair's pet micro pig, Piggy Smallz, whom she's referred to as a support animal).
Along with two stylized portraits of herself, on Tuesday night Grande also shared a very excited Instagram with Idina Menzel, who famously first played (and won a Tony for) Elphaba in the original Broadway Wicked, and who, in turn, Instagrammed the photo with an equally enthusiastic caption: "You were incredible. I'm such a huge fan." (Her friend the photographer Alfredo Flores also posted that he was "super proud" of Grande.)
Grande had actually returned to posting earlier in the day, on her Instagram Stories, using a selfie in green lipstick to deliver the message: "Can't believe I almost let my anxiety ruin this for me today! Not today Satan! Not tomorrow or the next day either not no more u can suck my big green d–k finna sing my heart out and be a big walking vessel of love bye." She followed up on that post later with photos of her posing with an appropriately green Elphaba Barbie doll, as well as a since-deleted announcement that she planned to take a break from social media. Beginning with saying how "grateful" she was to be a part of a "v. special day," Grande concluded: "Time to say bye bye again to the internet for just a lil bit. It's hard not to bump news n stuff that I'm not trying to see rn. It's very sad and we're all tryin very hard to keep going. love u. and thank u for bein here always."
The latter announcement doesn't exactly come as a surprise: Grande disabled her Instagram comments following vitriol blaming her for her previous partner Mac Miller's recent untimely death, which, along with two breakups, is just one of the hardships Grande has weathered over the past two years, including a terrorist attack during a concert in Manchester that claimed the lives of 23 of her fans.
Davidson, for his part, seems to have also decided to take some time to himself: Shortly after deleting his Instagram, he canceled his headlining appearance a comedy event at Temple University, in Philadelphia, taking place tonight, citing "personal reasons."
Related: Ariana Grande's 2018 VMAs Performance of "God Is a Woman" Was a Work of Art
A Visual Celebration of Ariana Grande's Signature Ponytail Going from Side to Side
Ariana Grande performs onstage during the 2016 American Music Awards at Microsoft Theater on November 20, 2016 in Los Angeles, California. Photo courtesy of Getty Images.

Kevin Winter
Ariana Grande performs onstage during the 2016 iHeartRadio Music Festival – night 2 held at T-Mobile Arena on September 24, 2016 in Las Vegas, Nevada. Photo courtesy of Getty Images.

Photo courtesy of Getty Images.
Ariana Grande performs on stage during the "Dangerous Woman" Tour Opener at Talking Stick Resort Arena on February 3, 2017 in Phoenix, Arizona. Photo courtesy of Getty Images.

Kevin Mazur
Ariana Grande performs with Kygo onstage during the 2018 Coachella Valley Music And Arts Festival at the Empire Polo Field on April 20, 2018 in Indio, California. Photo courtesy of Getty Images.

Christopher Polk
Ariana Grande performs onstage during the 2018 iHeartRadio Wango Tango by AT&T at Banc of California Stadium on June 2, 2018 in Los Angeles, California. Photo courtesy of Getty Images.

Rich Polk
Recording artist Ariana Grande performs during the 2018 Billboard Music Awards at MGM Grand Garden Arena on May 20, 2018 in Las Vegas, Nevada. Photo courtesy of Getty Images.

Ethan Miller
Ariana Grande performs onstage at the Q102's Jingle Ball 2014 at Wells Fargo Center on December 10, 2014 in Philadelphia, Pennsylvania. Photo courtesy of Getty Images.

C Flanigan
Recording artist Ariana Grande performs onstage during Z100's Jingle Ball 2016 at Madison Square Garden on December 9, 2016 in New York, New York. Photo courtesy of Getty Images.

Kevin Mazur
Ariana Grande performs onstage during the Sweetener World Tour – Opening Night at Times Union Center on March 18, 2019 in Albany, New York. Photo courtesy of Getty Images.

Kevin Mazur
Recording artist Ariana Grande performs onstage during the 2016 Billboard Music Awards at T-Mobile Arena on May 22, 2016 in Las Vegas, Nevada. Photo courtesy of Getty Images.

Jeff Kravitz/BBMA2016
Musical guest Ariana Grande performs with The Roots on The Tonight Show with Jimmy Fallon on September 8, 2016. Photo courtesy of Getty Images.

NBC
Ariana Grande performs onstage during the 2014 MTV Video Music Awards at The Forum on August 24, 2014 in Inglewood, California. Photo courtesy of Getty Images.

Michael Buckner
Ariana Grande performs during the 2016 MTV Video Music Awards August 28, 2016 at Madison Square Garden in New York. Photo courtesy of Getty Images.

JEWEL SAMAD
Ariana Grande performs onstage during her "Dangerous Woman" tour at Madison Square Garden on February 23, 2017 in New York City. Photo courtesy of Getty Images.

Kevin Mazur
Ariana Grande with host Jimmy Fallon during "Musical Genre Challenge" on May 1, 2018. Photo courtesy of Getty Images.

NBC
Ariana Grande performs onstage during Ariana Grande Sweetener World Tour at Staples Center on May 07, 2019 in Los Angeles, California. Photo courtesy of Getty Images.

Kevin Mazur
Ariana Grande performs at Coachella Stage during the 2019 Coachella Valley Music And Arts Festival on April 21, 2019 in Indio, California. Photo courtesy of Getty Images.

Kevin Mazur
Ariana Grande performs with members of NSYNC Chris Kirkpatrick, Lance Bass, JC Chasez and Joey Fatone on Coachella Stage during the 2019 Coachella Valley Music And Arts Festival on April 14, 2019 in Indio, California. Photo courtesy of Getty Images.

Kevin Mazur