Ariana Grande and Pete Davidson's Families "Are Relieved" About Their Breakup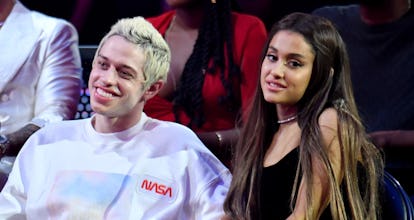 Jeff Kravitz
With each passing day, Ariana Grande and Pete Davidson's breakup is appearing to be more and more official. Now that the pair have called off their marriage and, apparently, gone in their separate ways — with Davidson recently joking about his need for new housing — the pair's families and loved ones have become seemingly more emboldened in giving their own opinions on the rollercoaster relationship. The latest? Both of their families are reportedly "relieved" that Grande and Davidson have called it quits.
One source—who revealed that "Pete's no longer at the house because why would he be? They broke up. He has no reason to go there"—has told People, "Everyone on both sides are relieved it's over."
Another, presumably on Grande's side, shed more light on why they broke up, saying, "She threw herself into the relationship with Pete. She is young, but at least mature enough to realize this wasn't the right relationship or the right time to get married. [Her loved ones] always thought the engagement to Pete happened way too quickly. They didn't want her to get married to Pete. And Ariana never got to the wedding planning stage. It was all way too soon."
Still, back in August, Grande shared in an interview with Michael Strahan that she had been leaning on her family for wedding planning, including her mother. "We're going to take our time to plan it," she said. "We've been, like, planning and my friends and I, my mom and everybody have been like, brainstorming and sharing ideas and stuff, and it's really fun. I work so much. I've never spent this much time or energy planning something personal that feeds my soul so much and my heart. I'm going to cry. I'm so excited. It's sick. It's really fun."
She also talked about their connection at the time, saying, "I mean, it's just, like, a feeling, you know? That's so cheesy. People are always like, 'When you know, you know,' and you're like 'Oh, yeah, whatever, okay, yeah, okay."
According to the same source, though, Grande seems to think she should have taken more time for herself. "Ariana has had several stressful situations in the past couple of years," the source says. "She really isn't in a position to make huge life decisions. Her family thinks she should just focus on work and not stress about other stuff.
Meanwhile, Davidson has managed to focus on both his work and the relationship, as he recently opened up about it at a comedy benefit, telling the crowd, "There's a lot going on. Does anybody have any open rooms? Looking for a roommate?" He forgot to add, "Must love bad jokes."
Related: Pete Davidson Is Speaking Out About His Breakup With Ariana Grande