Ariana Grande Credits Therapy For "Thank U, Next" Wisdom and Saving Her Life
"Who is Ariana Grande's therapist and are they accepting new clients," a fan wondered on Twitter.
---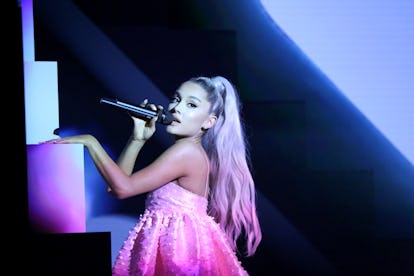 NBC
As much as Ariana Grande really wants to thank all her exes—really, genuinely, because "Thank U, Next" is not actually shady at all even though it sounds like it should be—she also recognizes that the person she should really thank is herself. "I met someone else, we havin' better discussions," she sings. "I know they say I move on too fast, but this one gon' last, 'cause her name is Ari." Ariana Grande's ex-boyfriends (and ex-fiancé) may have taught her "love," "patience," and "pain," but she doesn't need to credit them with her personal growth. Ariana Grande does it herself.
"No drags…. no shade….. jus love, gratitude, acceptance, honesty, forgiveness … and growth," she tweeted Saturday. It's an enviable, aspirational level of equanimity and confidence—and, judging by reactions to the song, it's one that most of us have not yet reached. After one fan tweeted, "who is ariana's therapist and are they accepting new clients," Grande retweeted the post with a reply: "lmaoaoo this is funny as fuck but in all honesty therapy has saved my life so many times. if you're afraid to ask for help, don't be. u don't have to be in constant pain & u can process trauma. i've got a lot of work to do but it's a start to even be aware that it's possible." (At time of writing, her tweet had reached nearly 130,000 likes; the original had just surpassed 100,000.)
A quick search for "who is ariana grande's therapist" doesn't turn up much, as it happens. But Grande is an outspoken advocate of therapy and has been candid about her experiences with anxiety—and post-traumatic stress disorder, in the wake of the terrorist attack at her Manchester Arena concert last year. It's a recurring theme in her music—Sweetener cuts "Breathin" and "Get Well Soon" both touch on it—and "Thank U, Next" is sort of like the culmination of that, an Ariana Grande who has, against the odds, come out the other side of a pretty horrific year and a half. She's known to take time for herself—canceling public appearances and performances—in order to be her best self for her legions of adoring fans. (I'm not speaking as an Ariana stan, of course.)
"All this self love on my tl got me smilin. I love seein your beautiful faces," Grande tweeted on Friday, in the midst of tweeting out the lyrics to "Thank U, Next." Then, after the single was released Saturday night, she went on, "thank u ♡ for hearing me and for making me feel so not alone."
A Visual Celebration of Ariana Grande's Signature Ponytail Going from Side to Side
Ariana Grande performs onstage during the 2016 American Music Awards at Microsoft Theater on November 20, 2016 in Los Angeles, California. Photo courtesy of Getty Images.

Kevin Winter
Ariana Grande performs onstage during the 2016 iHeartRadio Music Festival – night 2 held at T-Mobile Arena on September 24, 2016 in Las Vegas, Nevada. Photo courtesy of Getty Images.

Photo courtesy of Getty Images.
Ariana Grande performs on stage during the "Dangerous Woman" Tour Opener at Talking Stick Resort Arena on February 3, 2017 in Phoenix, Arizona. Photo courtesy of Getty Images.

Kevin Mazur
Ariana Grande performs with Kygo onstage during the 2018 Coachella Valley Music And Arts Festival at the Empire Polo Field on April 20, 2018 in Indio, California. Photo courtesy of Getty Images.

Christopher Polk
Ariana Grande performs onstage during the 2018 iHeartRadio Wango Tango by AT&T at Banc of California Stadium on June 2, 2018 in Los Angeles, California. Photo courtesy of Getty Images.

Rich Polk
Recording artist Ariana Grande performs during the 2018 Billboard Music Awards at MGM Grand Garden Arena on May 20, 2018 in Las Vegas, Nevada. Photo courtesy of Getty Images.

Ethan Miller
Ariana Grande performs onstage at the Q102's Jingle Ball 2014 at Wells Fargo Center on December 10, 2014 in Philadelphia, Pennsylvania. Photo courtesy of Getty Images.

C Flanigan
Recording artist Ariana Grande performs onstage during Z100's Jingle Ball 2016 at Madison Square Garden on December 9, 2016 in New York, New York. Photo courtesy of Getty Images.

Kevin Mazur
Ariana Grande performs onstage during the Sweetener World Tour – Opening Night at Times Union Center on March 18, 2019 in Albany, New York. Photo courtesy of Getty Images.

Kevin Mazur
Recording artist Ariana Grande performs onstage during the 2016 Billboard Music Awards at T-Mobile Arena on May 22, 2016 in Las Vegas, Nevada. Photo courtesy of Getty Images.

Jeff Kravitz/BBMA2016
Musical guest Ariana Grande performs with The Roots on The Tonight Show with Jimmy Fallon on September 8, 2016. Photo courtesy of Getty Images.

NBC
Ariana Grande performs onstage during the 2014 MTV Video Music Awards at The Forum on August 24, 2014 in Inglewood, California. Photo courtesy of Getty Images.

Michael Buckner
Ariana Grande performs during the 2016 MTV Video Music Awards August 28, 2016 at Madison Square Garden in New York. Photo courtesy of Getty Images.

JEWEL SAMAD
Ariana Grande performs onstage during her "Dangerous Woman" tour at Madison Square Garden on February 23, 2017 in New York City. Photo courtesy of Getty Images.

Kevin Mazur
Ariana Grande with host Jimmy Fallon during "Musical Genre Challenge" on May 1, 2018. Photo courtesy of Getty Images.

NBC
Ariana Grande performs onstage during Ariana Grande Sweetener World Tour at Staples Center on May 07, 2019 in Los Angeles, California. Photo courtesy of Getty Images.

Kevin Mazur
Ariana Grande performs at Coachella Stage during the 2019 Coachella Valley Music And Arts Festival on April 21, 2019 in Indio, California. Photo courtesy of Getty Images.

Kevin Mazur
Ariana Grande performs with members of NSYNC Chris Kirkpatrick, Lance Bass, JC Chasez and Joey Fatone on Coachella Stage during the 2019 Coachella Valley Music And Arts Festival on April 14, 2019 in Indio, California. Photo courtesy of Getty Images.

Kevin Mazur