How Troye Sivan and Ariana Grande's "Dance to This" Video Pays Homage to the Knife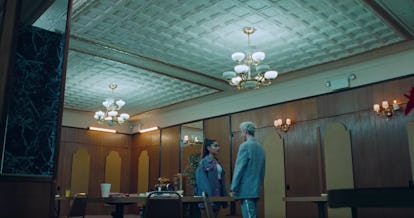 Troye Sivan and Ariana Grande dropped the highly anticipated music video for their duet "Dance to This" on Thursday afternoon, but anyone who spent too much of the mid-'00s reading Pitchfork and scrolling through tastemaking MP3 blogs might have experienced a case of déjà vu. In the video, the pair goofily dance their night away, but something about the rec room setting and the disinterested audience decked out in nylon neon-colored '90s sportswear rang a bell. Five seconds later you realized it: Wait, isn't this basically just Swedish electro band the Knife's "Pass This On," except with the drag queen Rickard Engfors swapped out for Troye and Ariana?
Yeah. It kind of is.
Released in 2003 as the video off the fourth single from the Knife's critically acclaimed breakthrough album Deep Cuts, the video wasn't exactly on heavy rotation on MTV in the States, but it's racked up millions of views since it was uploaded to YouTube in 2008, and was ranked as one of the 50 best music videos of the '00s by Slant magazine.
In case you're not familiar with the Knife, they're a still somewhat mysterious brother-sister duo who recorded and performed together from 1999 to 2014 and weren't too keen on starring in their own music videos, at least in a traditional sense. So for this one they recruited Engfors, a well-known Swedish drag queen, to lip-sync the song in the video (and at least once in a live performance as well).
Sivan and Grande are, of course, modern pop stars and pretty much mandated to appear in their own music videos, but aside from that, the videos are pretty similar.
Both videos start with the performers fiddling with amateur sound systems in some wood- paneled rec room and singing their songs to an audience who couldn't care less. No, really. They couldn't care less.
Well, except for one audience member in a big blue jacket. In "Pass This On" it's Olof Dreijer, the brother half of the Knife. In "Dance to This" it's, of course, Ariana Grande. Our big blue jacketed strangers are so transfixed that they can't help but wiggle their way up to the stage to join in with the queer performers pouring their hearts out on stage.
The two keep on performing until everyone else in the room starts getting up, and that's where the two music videos diverge. In "Pass This On" the audience is won over and joins in with the dancing. In "Dance to This" the audience files out of the room, and Troye and Ariana excuse themselves to another room for a private dance jam complete with twirls and dramatic lighting.
Lest you think we're pulling this out of thin air or exaggerating the similarities, Sivan himself acknowledged the direct inspiration five minutes before the video dropped.
It's easy to see why an artist like Sivan would be inspired by "Pass This On." The original video finds a queer performer strutting their stuff before an audience who, for lack of a better term, represents your basic, mainstream straights who are completely indifferent to the performance. It highlights the cruel difference and tension between mere tolerance and full-on acceptance represented by the explosion of dance at the end. There's a reason the rather simple clip is so affecting and resonates with audiences 15 years after its release.
So it's a bit curious, then, that Sivan, an openly and uncompromisingly queer artist who actually has won over mainstream audiences like few before him, would change the ending in his tribute version to find the audience bustling out and never giving in to the joy of the performance in front of them.
Or maybe it's Sivan's way of declaring that he doesn't need full-on acceptance from everyone. Just as long as he's having fun, being true to himself, and finds the right people to join them, those boring people are free to file out of the room. It's their loss, anyway, and maybe 15 years on it's a more realistic depiction of queer existence.
Or maybe it's just because the song is about two people who decide to stay in and dance with each other alone.
Watch both "Dance to This" and "Pass This On" below to come to your own conclusions.