Ariana Grande's "Thank U, Next" Music Video Will Parody Four Iconic 2000s Romantic Comedies
Legally Blonde, Mean Girls, and 13 Going on 30 will all be represented.
---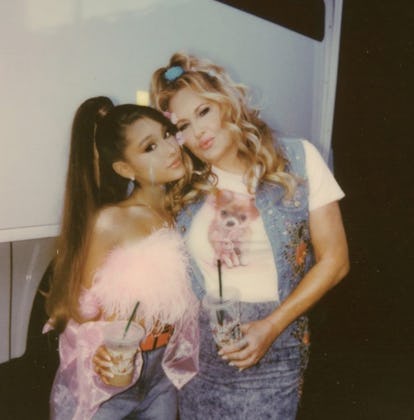 Instagram/arianagrande
Ariana Grande's next music video will be her fetchest one yet. On Monday morning, the pop star began posting unexplained references to Mean Girls on Instagram, before switching to Legally Blonde on Tuesday, leaving fans wondering whether the enigmatic posts were were serving simply as another cinematic mood board for her latest single, "Thank U, Next," much like her recent First Wives Club-inspired posts about and performance of the song, or if they were actually connected in some way to the track's upcoming video. Though Grande still has yet to explicitly state what she's doing with the rom-coms, a few hours into Tuesday's (excellent) Legally Blonde-related content, she did confirm that she's paying tribute in some way to four of her favorite movies, with 13 Going on 30 the third and the fourth still a mystery. It seems safe to assume that she's re-creating these classics for the official "Thank U, Next," music video. What, like it's hard?!
For the Mean Girls-themed posts, Grande enlisted the help of her pals Courtney Chipolone and Alexa Luria to portray the Gretchen Wieners and Karen Smiths to her Regina George. She shared three photos of "The Plastics"—plus several screenshots from the movie, overlaid with the words "thank u, next," in her Instagram Story—captioning each with a line from the endlessly quotable 2004 film, including, of course, "i'm on an all carb diet GOD KAREN U ARE SO STooPID."
Later, Grande reposted the three photos in her Instagram Story, revealing that, far from being innocent references to a timeless film, they made up a "tiny sip" of tea, presumably having to do with the music video her fans have been begging for—but only "like 25 percent of the cup" of tea, she wrote. In a follow-up tweet, she promised further tea in the coming days and advised, rather mysteriously, "trust me. have patience. all your theories are wrong. bye."
The next 25 percent of that cup of tea came bright and early Tuesday morning, when Grande posted a photo of herself posing with the same early-aughts orange Apple iBook laptop that Elle Woods uses at Harvard Law in Legally Blonde, captioned with one of Elle's most powerful quotes: "Whoever said orange was the new pink was seriously disturbed." She also shared pictures of one of her dogs floating on an inflatable pink raft in a swimming pool and of her posing with her "new best friend," Legally Blonde star Jennifer Coolidge, of whom Grande does a spectacular impression and who appeared to be dressed in her same denim-on-denim outfit from the 2001 rom-com.
Once again, Grande shared sassy stills from the film on her Instagram Story, altering the subtitles to read the name of her song instead. She also returned to Twitter to reiterate the status of the slowly spilling tea: Her "25 percent" quip actually meant that the video will pay equal homage to a total of four films.
Later on Tuesday, Grande seemingly jumped the gun on sharing the next quarter of the tea: She posted a photo of a dollhouse on Instagram, which IG users immediately recognized as looking extremely similar to the one that, when covered in magic dust, turns Jenna Rink from a 13-year-old to a fashion magazine editor who is 30, flirty, and thriving in 2004's 13 Going on 30. Though, once her fans had cracked the case, Grande deleted the photo from her Instagram feed. Later, she added it to her Instagram Story and admitted, "ok you guessed the third! but there's still one more so no tea tomorrow."
This Thanksgiving, then, Grande's fans will have plenty to be grateful for. Besides having already been blessed with one of the greatest, most empowering breakup tracks of all time, on Thursday they'll also know the four movies that serve as Grande's reference points for the song. On Tuesday, Grande confirmed via Twitter that the fourth film to inspire the video is not Clueless, nor is it The Human Centipede. Based on the other three, however, it'll be an early-2000s rom-com starring a plucky female protagonist who learns throughout the course of the movie—as Grande attests to having learned in "Thank U, Next"—to derive her self-worth and validation not from any man but from herself and her friends. Top candidates in this canon include My Best Friend's Wedding, The Wedding Date, A Cinderella Story, and How to Lose a Guy in 10 Days, among many, many others.
Related: Ariana Grande's New Music Is Apparently a Breakup Album She's Been Working On to "Heal"