Legally Blonde 3 Starring Reese Witherspoon Reportedly in the Works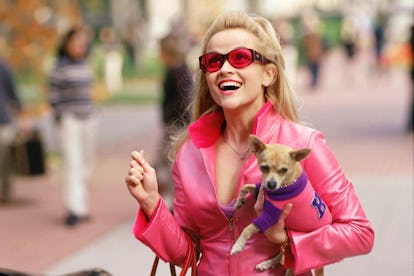 MGM/Everett Collection
Practice your bend and snap, because Legally Blonde 3 is finally happening. No, really.
MGM is reportedly "near a deal," with Reese Witherspoon, aka Elle Woods herself, to star in a third Legally Blonde, Deadline reported Monday. Other key members of the Elle and Bruiser team — including original scriptwriters Kirsten "Kiwi" Smith and Karen McCullah, as well as producer Marc Platt — are also said to be close to signing on the dotted line to make Legally Blonde into a trilogy. Though, there's reportedly no director as of yet, and no news of whether Jennifer Coolidge will return, but we assume someone will get on that once they have Witherspoon in place.
Of course, fans might be getting a little impatient as years of rumors about a possible third film have been building up. Witherspoon first had fans everywhere excited back in 2015, when she said it was a "good time" to bring back everyone's favorite lawyer in pink. "A lot of writers over the years have come up with ideas about it," she said at the time, adding, "I actually think it's kind of great right now because we're talking about women in politics and how important that is…to get more women. And I think it'd be kind of a cool thing to have her be a Supreme Court Justice or somebody who runs for office or president?" Since then Reese has only gotten more vocal about her excitement over a potential third film, saying in 2017 that with the right idea for a third film, "we'll do it."
With a third film actually on the horizon, the big question is, with the courtroom and D.C. conquered, where would a third film take Elle Woods? While plot details haven't been released yet, the film will focus on "female empowerment," according to Deadline. Of course, they could always use Reese's idea for where her alter ego would have ended up—as the first female president of the United States.
Witherspoon has been quite busy lately. She's currently filming a second installment of Big Little Lies, has a major deal to star in a television series opposite Jennifer Aniston, and is busy producing several other female-fronted projects for other actresses. Though, we're sure she can find time in her schedule for one last reunion with Bruiser.
Related: Kendall Jenner Wears a Legally Blonde-Inspired Bikini in Cannes