Reese Witherspoon and Jennifer Aniston Will Co-Star in Apple's First Big TV Show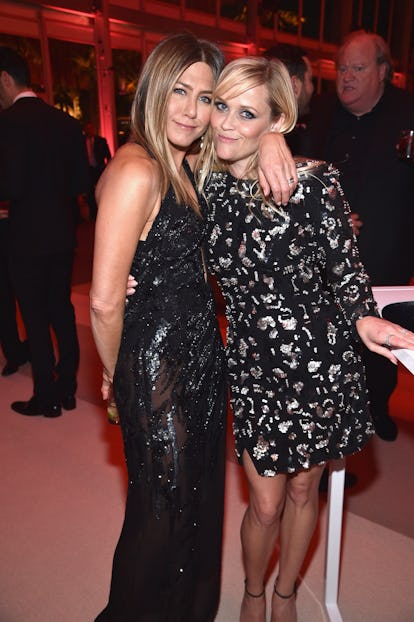 Kevin Mazur/VF17/Getty Images
Apple is officially in the prestige TV game and they're bringing Reese Witherspoon and Jennifer Aniston with them. The news that the pair, who first acted opposite each other as sister on Friends seventeen years ago, were working on a drama set in the world of morning TV was first reported back in July. In the meantime, rumors started surfacing that Apple was getting ready to make an ambitious entrance into producing scripting series of their own, taking on Silicon Valley rivals like Netflix and Amazon in the process. So, given the timing, it only makes sense that Apple would scoop up one of the most hotly anticipated television series currently in development.
Unfortunately, there's still not many details about what to actually expect form the show. Though, it was in part inspired by media reporter Brian Stelter's book Top of the Morning. The book detailed the ever-simmering battle for ratings supremacy between NBC's Today and ABC's Good Morning America. The series won't tell that story directly, but will draw background material from the book.
Given that there's almost no one in Hollywood history better at hiding unbridled ambition behind unrelenting pep, one would figure Witherspoon would be a natural fit to play a cutthroat morning TV anchor. It wouldn't be a stretch to imagine that Aniston would play either her co-host or rival at another network (or perhaps they're former rivals who now have to co-host together?). Though, nothing is confirmed yet. For all we know, they could end up playing behind-the-scenes power producers. Which would also make sense, considering both Aniston and Witherspoon actually are behind-the-scenes power players: they're executive producing the show through their individual companies and co-own the whole thing with Michael Ellenberg's Media Res company.
Whatever the actual plot is, Apple seems to like it. They've already ordered two ten-episode seasons.
The show will mark Aniston's first return to regular television work since the end of Friends (and, my, has the TV landscape changed since then). Witherspoon, meanwhile, is on something of a TV hot streak. In case you need reminding, she co-stared and co-produced HBO's Big Little Lies, a a limited series that just swept the Emmys.
Apple then in this relative TV newcomer here. The tech giant already offers some unscripted series through Apple Music, but this will be a bold new adventure for the company. Indeed, no one is actually sure yet how the show will be screened. It hasn't been confirmed yet whether their ambitious TV push will be tied into subscriptions through Apple Music or whether they'll invent another model all together.
In fact, there's still not title or timeline attached yet either. Yet, surely that hasn't stopped the world from dreaming up their list of preferred guest stars. Just putting it out there if the rival anchors plot comes to be: Laura Dern and Lisa Kudrow as their high powered agents. Please.
Related: Report: Big Little Lies Didn't Wind Up on Amazon Because Exec Wanted More Nudity
Reese Witherspoon Loves Miles Teller Back: