Report: Big Little Lies Didn't Wind Up on Amazon Because Exec Wanted More Nudity
Resigned Amazon exec Roy Price repor made crude comments about Nicole Kidman and Reese Witherspoon.
---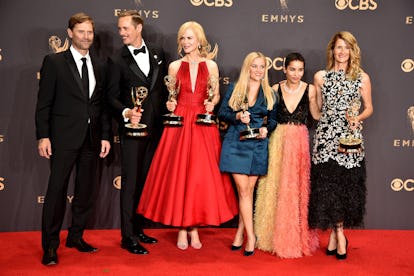 David Crotty
Imagine you're a studio exec and you get word that Nicole Kidman and Reese Witherspoon are interested in making a television show for you. Based on those names alone, you'd probably be eager to get a deal done no matter what. Now imagine that the show is based on a hit novel with a rabid fanbase, will be directed by a respected director at his career peak, and has one of the most successful writers in recent television history on board to helm the scripts. It would seem like one of the easiest decision any studio exec would ever have to make.
Well, Amazon's recently resigned programming chief Roy Price wasn't so eager to snag the show that would become Big Little Lies, and later, according to a new report, joked that he wouldn't have much reason to green-light the project unless Kidman and Witherspoon did nude scenes.
Price was put on indefinite leave at Amazon on October 12th after The Man in the High Castle executive producer Isa Hackett came forward with claims he made several crude and sexually harassing comments to her through their professional relationship. Price officially resigned yesterday.
Now, The Hollywood Reporter has put out a shocking story detailing Price's alleged history of crude remarks and tendency to steer discussions with female colleagues towards sexual matters.
The claimed incident concerning BLL came while Kidman and Witherspoon were soliciting offers from Netflix, Showtime, Amazon, and its eventual home HBO. While every other network and service offered a straight-to-series offer, Amazon under Price's leadership would only offer a development deal.
From The Reporter:
Company insiders say at a staff holiday party at the Lucky Strike bowling alley in Hollywood, Price asked a group of staffers if the two stars would "show their tits" and mused aloud why he would greenlight the show if they didn't.
Kidman would appear nude in the series, but those scenes certainly weren't meant to titillate the male gaze. Rather, they served to show the realities of the domestic abuse her character suffered.
As the Reporter notes, HBO won the bidding war and the series racked up eight Emmys awards—four times more than all Amazon shows combined won this year.
"Can I just say bring women to the front of their own stories, and make them the hero of their own stories," said Kidman while accepting the show's award for Outstanding Limited Series.
The story about Price's crude dismissal only serves to illuminate the depths of misogyny in Hollywood. Even when women aren't subjected to abuse while they're present, they can often be belittled and objectified in boardrooms and meetings and office parties when they're not. Decisions about their fates as actresses and producers are still being based on their bodies.
Though, it perhaps should come as no surprise, then, that Price wasn't exactly the most successful at his job anyway. Amazon has had trouble launching television shows that are as popular and critically beloved as its competitors Netflix and now Hulu, thanks to the success of the feminist allegory The Handmaid's Tale.
Ironically, Amazon's most successful program is Transparent, which is about women, created by a woman, and has a strong female viewership. Despite this, Price has steered Amazon more toward male-skewering programming. In fact, while Amazon had ordered a few male-created programs straight to series, all of its female-created programming had to go through the pilot series first (even Jill Soloway's Transparent follow-up I Love Dick). Interestingly, Price may have been secretly developing a show of his own creation about a young woman sold into sex slavery that one person who worked on the project told the Reporter was "misogynistic."
Witherspoon is now teaming up with another one of her famous friends, Jennifer Aniston, for another television series, while Kidman is busy making good on a promise to make sure she works with female directors more frequently.
Meanwhile, Big Little Lies 2 remains a possibility. It just won't wind up on Amazon.
Related: Nicole Kidman on Preparing for Her Emmy-Winning Role in Big Little Lies and the Importance of Sunscreen
Nicole Kidman Could Go on "Survivor" and Crush It: