Reese Witherspoon and Jennifer Aniston Are Co-Starring in a New Show, and You're Definitely Going to Watch It
The duo's new New York media-set series hasn't even been picked up yet and it's already destined to be a runaway hit.
---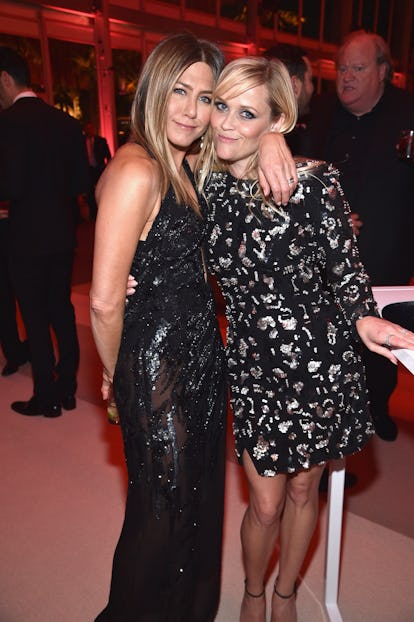 Kevin Mazur/VF17/Getty Images
Back in 2000, Reese Witherspoon appeared on the sitcom Friends playing Jill, the indulgent, financially reckless younger sister of Jennifer Aniston's Rachel. And on Thursday—more than a decade after Friends wrapped, and 17 years after Witherspoon's debut on the series—the Hollywood Reporter announced Aniston and Witherspoon would reunite on the small screen, co-starring in a new project about morning talk shows and New York media.
The show hasn't even been picked up yet, but it's already shaping up to be one of the most hotly anticipated new releases—according to THR's report, the showrunners plan to shop it out to Netflix and HBO, among others. Based on Aniston and Witherspoon's shared history on Friends, and their ongoing friendship, it's a sisterhood we're already here for. (Plus, the project is virtual catnip for a specific cross-section of Big Little Lies fans who work in media—a specific cross-section that also tends to act as Twitter's vox populi.)
And while Aniston is best known for more comedic roles, Witherspoon's resume bridges both drama and comedy, and, as Vanity Fair pointed out, the involvement of Michael Ellenberg, formerly HBO's head of drama, and Jay Carson, a writer for House of Cards, indicate the series may skew more serious. It marks Aniston's first leading television role since Friends wrapped—in the interim, she's largely focused on big-screen romantic comedies like The Breakup and He's Just Not That Into You as well as family-friendly dramas like Marley & Me. Witherspoon, for her part, is in the midst of a Renaissance of sorts, fresh off Big Little Lies, which she helped develop, and nominated for an Emmy this year. This new show is still in the making, but Big Little Lies is reportedly up for a second-season renewal, despite director Jean-Marc Vallée's reluctance to continue the series.
"Nicole and Reese can be very persuasive," HBO programming director Casey Bloys said Wednesday, according to Vanity Fair. If their new collaboration is any indicator, Reese and Jennifer can be perhaps even more so.
Reese Witherspoon loves Miles Teller back: