Ariana Grande's New Music Is Apparently a Breakup Album She's Been Working On to "Heal"
She's working on a breakup album—sans breakup jokes.
---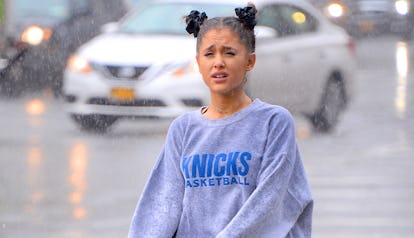 Robert Kamau/GC Images
Ariana Grande is moving on from her breakup with Pete Davidson in the best way she knows how to: by turning to music as therapy. The pop singer, whose short engagement to the SNL actor ended earlier this month (much to their families' relief, reportedly), is at work on new music. Grande confirmed that she's deep in the followup to this year's Sweetener while in conversation with fans on Twitter.
For Grande, working on her next album has been therapeutic in the wake of her breakup, as she confirmed. "It ain't work when you love it," she tweeted. "I'm the luckiest girl in the world to be able to do this sh-t and express myself and heal this way …. my lifeline to be honest. Thank you for listening and allowing this to be my life ?."
She also gave an update on how she's been feeling these days, telling a fan, "I'm feeling [so much] better lately and this music is sick. I'm so happy…. I'm very excited for dis next one too."
When a fan replied "you literally made an album in 2/3 months… this is insane. Hard work. Queen!," she wrote back, "How you think I survived these 2/3 months… damn." When another fan wondered, "I can't believe… two albums in 4 months or less… how does this happen?," she clarified, "Life… you know?"
As for when it will be released, Grande previously revealed that her new music would come out earlier than expected. "I love music," she tweeted on October 8, "I ain't waiting another two years to drop it. I want to share it w u when it's fresh." She also said of the new album and her recent Sweetener that "we just gonna have both at once if you down."
Pete Davidson is healing in his own way—aka making jokes out of their breakup: "There's a lot going on," he recently said to a crowd at a benefit show, "Anybody have any open rooms? Anybody looking for a roommate?" Of course, Grande is more than entitled to do her own public healing, though her approach so far seems to be much more respectful to her ex.
Related: Ariana Grande and Pete Davidson's Families "Are Relieved" About Their Breakup