Did Ariana Grande Confirm Pete Davidson Engagement in Replies to Fan Tweets?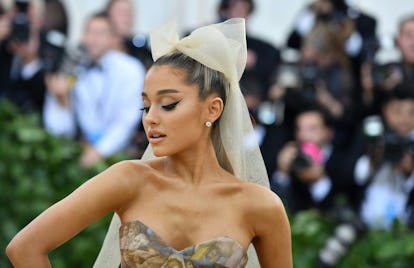 ANGELA WEISS/AFP/Getty Images
After reports that Ariana Grande and Pete Davidson are engaged sent the internet into a complete frenzy, the 24-year-old singer may have indirectly confirmed the news on her own Twitter account.
On Monday, several sources told People that the "No Tears Left to Cry" singer and Saturday Night Live comedian were indeed engaged to be married after dating for just a few weeks. Shortly after, Ariana posted a tweet that vaguely hinted at something: "i love u… sm… bye," she wrote, along with many monkey-covering-its-eyes emojis. However, judging from her likes on Twitter and some more recent posts, things are a bit less vague.
"genuine happiness is your best look yet," "congrats, you deserve nothing but happiness," and "I hope he knows he is maRRYING US AS WELL," are just some of the sweet posts from fans that Ariana has liked in the past 24 hours. "Anyway I expect to be a groomsman and would like the non vegan option for the reception. mazel tov hun! @ArianaGrande," one fan wrote on Twitter. "Make sure nonna has a stunning outfit babe," said another, referring to Ariana's beloved grandmother. Others are preparing for what is sure to be the most epic wedding of all time, when and if it happens. "ariana's wedding would outsell the royal wedding ladies," one person tweeted, with a hilarious picture of Steve Harvey. "i always will love u more and that's the indisputable tea for today mrs.davidson," another wrote.
Not only has Ari liked tons of tweets that refer to an engagement, a wedding, and a future Mrs. Davidson, but she's also replied to several of them. In response to a fan saying Pete is marrying the fandom, she said, "HAHAHAHAHAHH HES BEEN BRIEFED." She also said she was "crying" and "nervous." "i love u so f*ckin much. hi. i'm so happy. and excited," she replied to one fan.
However, it wasn't all love; she did tweet an inside joke that pretty much seals the deal on a long-standing relationship. "we need to talk @camila_cabello," she said, referring to the fact that Ariana and Camila Cabello have a running joke that they are married. On Ariana's birthday in 2017, Camila tweeted, "happy bday to my beautiful wife @ArianaGrande , 4 years, and countless dogs later and still going strong ?‍❤️‍??‍❤️‍??‍❤️‍??????." Seems like Camila's loss is Pete's gain.
Related: Ariana Grande and Pete Davidson: A Quick Timeline of Their Relationship