Ariana Grande's Sweetener World Tour Kicked Off With A Few Ups and Downs
The pop princess kicked off the Sweetener tour in Albany with a few surprises.
---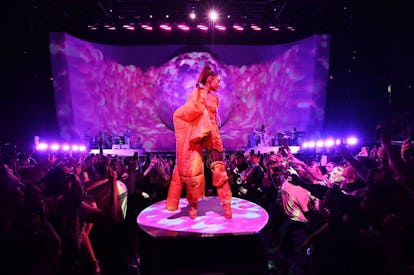 Kevin Mazur/Getty Images
Ariana Grande has finally begun her highly anticipated double album tour in North America, with a few surprises for her fans.
The tour, which Grande announced in February would be referred to as the Sweetener / Thank U, Next tour because she will perform songs from both albums, kicked off Monday night in Albany, at the Times Union Center. This is her first world tour since the terrorist attacks in Manchester nearly two years ago.
While performing mostly in front of a giant moon backdrop (which occasionally had animations of Pixar character Wall-E floating around it), Grande brought her inner weirdo out to play for her concert. "I am still a basketcase and cannot believe any of this shit is real," she tweeted after her show. This first leg of a tour was not without its hitches, but if anyone knows that hardly any performance is ever perfect, it's Grande. The singer reportedly took everything in stride, and even opened up the show on a bittersweet note before launching into her concert. Here's everything that went down on the first night of the Sweetener / Thank U, Next tour, and what to expect from the tour when Grande comes to your city.
Thank U, Vote
The Sweetener / Thank U, Next tour will double as encouragement for voter registration. At the Albany venue, Grande set up voter registration booths in partnership with HeadCount to encourage her fans to register to vote in the upcoming elections. Of course, the booths had signs that read "Thank U, Vote" and "You like my rights? Gee thanks, just voted!" because what Grande voter registration booth would complete be without some attempts at cheeky references to her lyrics.
Honoring Mac Miller
While Grande previously announced via Twitter that her Thank U, Next songs "Ghostin" and "Imagine" would not be included on the setlist because of the heavy subject matter (both songs reference her grief after the sudden death of ex-boyfriend Mac Miller), before her performance began, she played a few tracks by the late rapper on the speakers in his honor, including "Dang!" which was the last song of his to play before she emerged on stage.
Styled by Law Roach
The ponytail was high, the boots were also high, and the bows were big, all thanks to Law Roach, who styled the pop princess for the tour. If Grande is lucky, she'll end up serving Céline Dion levels of looks on this tour with Roach by her side.
According to eagle-eyed fans, the merchandise for this tour also taps into some nostalgic, ironically vintage aesthetic, and while fans on Twitter aren't too ecstatic about it, that doesn't mean she can't take the feedback into consideration and switch things up slightly before continuing with the rest of her world tour.
Microphone Mishaps
According to some murmurs on Twitter citing Grande's choreography collaborator Scott Nicholson as a source, the production designers planted microphones in the audience so that Grande could hear attendees's reactions to her performance. If that's true, it's a little "Big Brother" but can you really blame a performer for wanting to get feedback directly from the people they are performing for?
For the most part, Grande's vocals reportedly went off without any issues, except for when she began to sing Thank U, Next, the title track from her fifth studio album, the production went awry. Grande's microphone was somehow misplaced for the song's opening lyrics, and her dancers had to rush to the side to grab one for her so that she could continue the song.
This is not the first time a live performance of Thank U, Next has been plagued with a minor mishap. When Grande performed the single on The Ellen DeGeneres Show for the first time as an homage to The First Wives Club, she fell on live television, but pulled herself up quickly and took on the incident with a sense of humor as she laugh-sang through the rest of the song.