Céline Dion Has Been Serving Looks All Summer Long
Here are the pop icon's best outfits from her international tour—which is to say, all of them.
---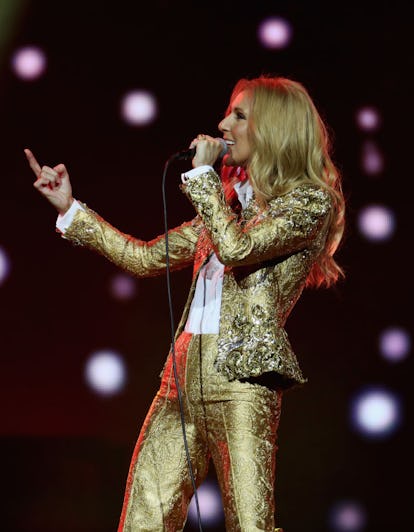 Don Arnold/Getty Images
Surely by now you've noticed the proliferation of Céline Dion pictures circulating on your various social media timelines. Perhaps you've even recognized that some of these fierce capital-l looks, replete with some truly wild Instagram captions (in both English and French, of course), have been turned into memes.
Dion, who is gearing up for the home stretch of her international tour, Céline Dion Live 2018 (which, by the way, will be spun into an English-language album before the end of the year), has been serving looks for the entire summer, and not one of them has been a disappointment so far. None of this should be a surprise. The songstress turned heads with her seemingly sudden style renaissance last year on her13th concert tour, and before that she made fans do a double take with a giant Vetements hoodie she wore in 2016. Every time she posts a new outfit to Instagram the stans jump out. That's just how it is when a living legend goes through a very public style transformation.
Between the monochromatic sharp suits, the hype beast fanny packs, the glittery two pieces, and the thigh high boots, Céline Dion shows up to every stop on her tour to let you know she did not come here to play (unless she's wearing her pre-show warm-up sweats, and even then she still looks chic). To say that the Canadian icon's ability to give us both "I'm about to drop the hottest mixtape of 2018" and "Jem and the Holograms" on the same tour is impressive would be an understatement, and her personal stylist Law Roach, known for his roster of teen idols and pop divas like Zendaya and Ariana Grande, is the one responsible for these streetwear-meets-couture looks every step of the way on Dion's global tour.
In between taking the internet's breath away with every outfit, Dion took some time out of her busy schedule to attend a concert for Katy Perry's Witness tour in Melbourne, Australia. Perry could, understandably, hardly keep it cool backstage before they posed together for a photo. "CELINE DION SHOWED ME HOW TO DO THE FAMOUS CHEST SLAP AND I DID IT TO HER WHILE SINGING FIREWORK AND I BECAME A FIREWORK," she tweeted in all caps.
Don't be surprised if Dion continues to flex on Instagram once her tour ends on August 14—in fact, the powerhouse vocalist will probably keep showing off every chic outfit change through the end of the year. Those "best dressed" lists will be waiting.
Related: Watch Céline Dion and Steve Aoki Give 'My Heart Will Go On' an EDM Remix