Watch Céline Dion and Steve Aoki Give 'My Heart Will Go On' an EDM Remix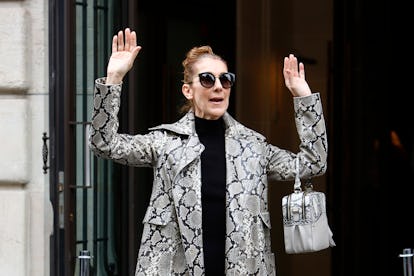 Mehdi Taamallah/NurPhoto via Getty Images
While 2017 has been a slog of a year for many, for Céline Dion it's been a landmark one. Over the past 11 months, the Canadian balladeer has had somewhat of a renaissance as she's become a fashion and awards show fixture. Her new reign may have peaked, though, when she passed through Omnia Nightclub in Las Vegas last night and won a whole new generation of fans by teaming up with EDM powerhouse Steve Aoki. Together, the unlikely pair gave her 1997 classic "My Heart Will Go On," aka the song from Titanic, a dance floor update. Aoki brought the bass drops and Dion brought her unwavering vocals as well as some new dance moves. If you've ever wondered what the singer looks like as a DJ hype woman, that question has been answered. And boy, is it satisfying.
It helps that Dion, whose style has been consistently on-point all year, dressed the part. She went to the show, which was to benefit the victims of the recent Las Vegas shooting, as a human disco ball in a shimmering, tiered silver dress, not only bowing down to the beat but going as far as actually laying across the stage. The song started out as the original with Dion's falsetto taking center stage before Aoki unleashed his signature wobble. Honestly, it doesn't even matter that Dion is arriving a full six years late to the EDM party because time is completely irrelevant for Dion. She just gets better with age.
For further proof, look to her 2007 W interview where, even then, she talked about how her career and sound aren't beholden to anyone else. "In terms of music, I can try anything I want, even something that doesn't work at all, because I'm not putting my career in jeopardy," she said at the time. "Ten or 15 years ago, I had to prove to myself that I could do it. I needed to prove to the industry and the people around me that I could do it, so I didn't take too many chances. Today is different. I feel like I can be edgier, because if it's too much, we can always do another [album]."
Edgy Celine Dion is just what the world needs right now.
Miles Teller is a sucker for "Titanic":