How to Do Art Basel Miami Beach Online (Bring Your Own Champagne)
From augmented reality to Instagram museums, here's how to do Miami Art Week online.
---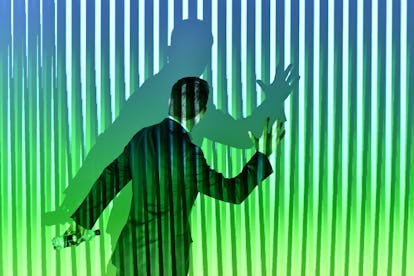 Harold Cunningham/Getty Images
Art Basel Miami Beach is America's single most important contemporary art fair. It is also, in a normal year, known as the "Open Bar Olympics," owing to its notoriously expansive party circuit. Though, with the physical edition of the main fair canceled in lieu of an online event and Covid-19 cases continuing to rise across the country, this year's itinerary will end up looking a whole lot different.
The good news: there are still plenty of opportunities to take in the current state of art and the wider art market online. The bad news is that you'll have to bring your own champagne.
Art Basel Miami Beach Online Viewing Rooms
Beginning the morning of December 4th, sign up on ArtBasel.com to see the online viewing rooms from 255 of the top galleries in the world (including David Zwirner, Lehmann Maupin, Perrotin, Gagosian, and more). In a year where regular visits to museums and gallery shows have been rare if non-existent for many, it's a great way to survey what matters in the art world now. While you won't get the in-person effect, that also means you won't have to dodge people taking selfies with the art to view it like you would during the regular fair.
Each gallery will be presenting with its own technology. Some will let you take a digital walkthrough of exhibits set up elsewhere in the world, others may feature art films and video art from the privacy of your own couch (which may, actually, be an improvement over the regular film viewing experience at an art fair). Mega-gallery Hauser & Wirth will even offer an augmented reality tool to let you see how individual pieces may look hanging on your walls.
The fair will also be offering virtual guided walk-throughs, online events, and Zoom talks throughout the week. Find a full listing here after signing up.
Take a Tour of The Marguiles Collection…Digitally
Miami's Margulies Collection is one of the top privately owned but publicly viewable collections, not just in Miami, but in the country. A visit is a must for all art enthusiasts during a regular Basel week, and this year your ArtBasel.com sign-up allows you to take a digital tour of the warehouse space.
Tour the Satellite Fairs
While the official Art Basel Miami Beach event is the main attraction, there are usually tons of satellite fairs stationed around the city with their own never-ending mazes of art. That's not different, really, this year—except you may be using actual satellite communication to view them.
Each of the fairs may also offer their own slate of online conversations and digital performances.
Design Heads Have a Virtual Design Miami/ as Well
Design Miami/ always compliments the traditional art by showcasing the best in modern design. This year, the fair has moved forward with a modified in-person show, but that also allows them to stage one of the most truly immersive digital experiences as well. For free, you can take a 3D mapped tour of the space (think Google's Street View, but even better).
What to Watch for on Instagram
While most of the action will be online, some installations will be popping up physically in Miami. While you might not get to see them in person, they are worth checking out on Instagram.
Maison Margiela Presents Marco Brambilla: For three nights, the Paris fashion house will project Brambilla's Nude Descending a Staircase No. 3 in Miami's Design District starting tomorrow night.
Faena Art Will Present Alexandre Arrechea's Dreaming With Lions Directly on the Beach: Inspired by Ernest Hemingway's The Old Man and the Sea, the commission by the Cuban-American artist is made to resemble a forum-style library—but with beach towels bearing Hemingway quotes instead of books.
The Bass Museum's Art Outside: Situated just north of South Beach, The Bass Museum always has prime real estate to make a grand showing at Basel, but the museum has also explored new real estate directly on Instagram with @TheBassSquared. This week, the account will be featuring Jeremy Couillard's Voluntary Associations.
Louis Vuitton Presents Zoooom with Friends: Men's Artistic Director Virgil Abloh created an entire fictional world called the The Adventures of Zoooom with Friends for his spring/summer 2021 collection, and it's taking non-fictional form in Miami's Design District. Guests can enjoy helium ballon figures, statues, and an Augmented Reality experience as they also browse the collection.