Five Minutes With Ashley Greene
Ashley Greene chats about her first girl-on-girl film scene, moving on from Twilight and what goes into all those paparazzi shots of her in workout gear.
---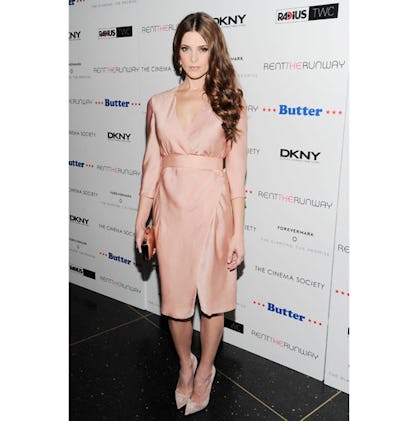 Ashley Greene is better known as Alice Cullen to the legions of Twi-hards worldwide. But as the franchise's impending finale approaches this November with the release of The Twilight Saga: Breaking Dawn—Part 2 the 25 year-old actress is exploring other venues, as the face of DKNY's fall ad campaign, as an ongoing model for Mark cosmetics and in this week's film Butter. The wacky comedy stars Ty Burrell as an Iowan butter-carving champion forced to step down from his throne. His high-strung, striving wife (Jennifer Garner), will have none of it, and enters the annual contest on his behalf. Greene is their sarcastic teenage daughter who falls for a local stripper slash hooker (Olivia Wilde), who happens to have slept with her father.
Here Greene chats about her first girl-on-girl film scene, moving on from Twilight and what goes into all those paparazzi shots of her in workout gear.
Kaitlen starts out as a typical angst-ridden, small-town teenager and then throws us a curveball when she falls for Brooke (played by Olivia Wilde). I liked being able to take Kaitlen on this journey and having her kind of find herself with the help of Brooke, ironically enough. Because I think she sees Brooke as this strong kind of rebellious smart female that she's never seen in Iowa before. And I think Kaitlen's always looking for something more and striving for something more and I think that's what Brooke represents to her. I keep saying I don't necessarily know that she's particularly a lesbian, I think it's more that she's in love with the person that Brooke is and wanting to emulate her and be like her.
That said, you have a romantic scene with Olivia Wilde. Was that the first time you'd ever done anything on screen like that with a girl and what was it like shooting it? I think so. I think after that I end up kissing someone on an episode of Pan Am. And then I was like, Okay this is getting out of hand. But yeah, I think first female onscreen kiss. Luckily it was in a comedy and it's such an outrageous film that I feel like no subject goes unscathed, so I think that made it easier for me. And Olivia and I knew each other beforehand so there was that comfort I think. So I lucked out with my first onscreen female kiss.
You have Twilight coming up, your last one. Those movies have been so influential in your career. How are you dealing with the approaching end? It is bittersweet because it's been part of my life for four and a half years, and it's something I grew up with and it's been my crash course in Hollywood and it started my career, so I'm definitely going to miss Alice as a character. I will say the positive twist on that is that Twilight has given us so many opportunities, a lot of them which we couldn't take advantage of because we were filming and promoting so it will be nice to have the time to seize them.
I've noticed online there are so many photos of you in workout gear and you're obviously in amazing shape. What's your fitness regime? Kind of recently I've taken a different approach on it. The two trainers I work with, one in LA and one here, we view it more as exercising and overall being healthy and happy in spirit, mind and body. I was very athletic as a kid and did a lot of sports and then when I moved to LA I lost that. And you have to workout if you're gonna be able to eat pizza if you want to. And then it became more about working out and staying in shape and being this and doing that. And then I've just come into a place where it's nice to just exercise and feel good. It's nice to sweat and start your day off positively.
Are there any classes you're loyal to? I'm a frequent Tracy Anderson goer. I like their dance cardio a lot, I think it's a nice alternative to running. I'll do Physique 57 it's a fun one when I'm in NYC. It's a fun one to go to with a group of girls. You look over and there's someone suffering just as badly as you are and you know them. It's encouraging. And my trainer's great, too, he's like, If you're tired, let's just stretch and do some yoga and water aerobics.
You mentioned changing your approach to working out. Having so much exposure on the red carpet, has it been hard for you to stay grounded and look good, but be healthy about it? Definitely. There's always going to be pressure and in this particular field I've chosen, it's heightened. There is pressure, but I think just for me, it's been very important that I keep people around me who have known me since sixth grade and staying close with my mother. I think everyone needs someone to hold them accountable no matter who they are and I think if you don't have that, that's when you run into problems.
Photo: Nick Hunt/Patrick McMullan Co.