Ashley Judd Sues Harvey Weinstein for Allegedly Damaging Her Career
She says she will donate any money from the suit to Time's Up.
---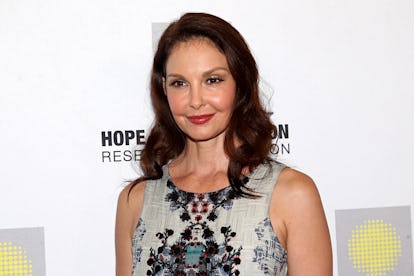 Steve Mack/Getty Images
Yesterday, actress Ashley Judd filed a lawsuit against former movie mogul Harvey Weinstein alleging that her career was damaged by lies he spread against her in the Hollywood community after she rejected his sexual advances. Judd was one of the first high profile women to come forward with her story about the producer. In October, she told the New York Times she remembered thinking of an encounter with Weinstein, "How do I get out of the room as fast as possible without alienating Harvey Weinstein?"
The Times notes that it is rare for people to recover damages in suits such as this, as they can be hard to prove. But Judd appears to have a corroborating witness on her side, Lord of the Rings' director Peter Jackson. Judd claims that she was being considered for a prominent role in the film franchise when suddenly, the talks came to an abrupt halt. She told ABC News that she went from being invited to consider two roles to "poof," nothing. "We never heard anything back and I remember calling my agent multiple times," Judd said.
Her lawsuit alleges that Weinstein "torpedoed Ms. Judd's incredible professional opportunity" by falsely telling Mr. Jackson that Ms. Judd was a "nightmare" who should be avoided "at all costs." Jackson appears to back this up in a December interview with Stuff. "I recall Miramax telling us they [Judd and Mira Sorvino] were a nightmare to work with and we should avoid them at all costs. This was probably in 1998," Jackson said. "At the time, we had no reason to question what these guys were telling us – but in hindsight, I realize that this was very likely the Miramax smear campaign in full swing. I now suspect we were fed false information about both of these talented women – and as a direct result their names were removed from our casting list."
According to the Times, Judd is suing Weinstein for defamation and sexual harassment and for violating California's broadly written Unfair Competition law, which prohibits "unlawful, unfair and fraudulent business acts and practices." Her lawyer, Theodore Boutrou Jr says, "Ashley is fighting back, but she also wants to point the way for others" and that "if this isn't an example of unfair business practice then I don't know what is." Judd says that any money won in the suit will be donated to the Time's Up Legal Defense Fund.
Weinstein issued a statement denying Judd's claims: "The most basic investigation of the facts will reveal that Mr. Weinstein neither defamed Ms. Judd nor ever interfered with Ms. Judd's career, and instead not only championed her work but also repeatedly approved her casting for two of his movies over the next decade. The actual facts will show that Mr. Weinstein was widely known for having fought for Ms. Judd as his first choice for the lead role in Good Will Hunting and, in fact, arranged for Ms. Judd to fly to New York to be considered for the role. Thereafter, Ms. Judd was hired for not one, but two of Mr. Weinstein's movies, 'Frida' in 2002 and 'Crossing Over' with Harrison Ford in 2009. We look forward to a vigorous defense of these claims."
Related: Salma Hayek Says Harvey Weinstein Threatened to Kill Her for Rebuffing Him
Women's March: See How Jennifer Lawrence, Adele, Cameron Diaz, and Other Celebs Protested All Across the Country
Sarah Sophie Flicker, Michaela Angela Davis, Janet Mock, Ilana Glazer and Abbi Jacobson marched together in Los Angeles.

Photo by @janetmock.
Julia Louis-Dreyfus reminds us all to register to vote while protesting at the Women's March.

Photo by @officialjld.
Julianne Moore marched in New York.

Photo by @juliannemoore.
Jenny Lewis at the Women's March in Downtown LA.

Photo by @jennydianelewis.
Mark Ruffalo marched with his family in New York.

Photo by @markruffalo.
Ashley Judd marched in solidarity with the Time's Up initiative in New York.

Photo by @ashley_judd.
Gina Rodriguez at the Women's March in Los Angeles.

Photo by @hereisgina.
Rose McGowan marched in Washington, D.C. on the anniversary of the Women's March.

Photo by @rosemcgowan.
Olivia Wilde gave a speech for over 700,000 protestors at the Women's March in Los Angeles.

Photo by @oliviawilde.
Jennifer Lawrence, Cameron Diaz and Adele at the Women's March.

Photo by @adele.
Kathy Najimy used her megaphone at the Women's March in New York.

Photo by @kathynajimy.
Krysten Ritter promoted girl power before heading out to the Women's March.

Photo by @therealkrystenritter.
Chloë Grace Moretz stepped away from the 2018 Sundance Film Festival to protest at the Respect Rally in Park City, Utah.

Photo by @chloegmoretz.
Ellen Page and Emma Portner brought their pup to protest with them at the Women's March in Los Angeles.

Photo by @redsquare7.
Amy Schumer and Amber Tamblyn at the Women's March in New York.

Photo by @amyschumer.
Cynthia Nixon at the Women's March in New York.

Photo by @cynthiaenixon.
Katie Holmes braved the crowded subway to march in New York.

Photo by @katieholmes212.
Alessandra Garcia Lorido in front of signs for the Women's March Alliance.

Photo by @alessandragl.
Sarah Ramos with a crew of friends at the Women's March in Los Angeles.

Photo by @saraheramos.
Willa Fitzgerald and Molly Bernard at the Women's March in New York.

Photo by @willafitz.