At 73, Manolo Blahnik is More in Demand Than Ever
Thanks to his classicist ways, Manolo Blahnik has become—much to his own surprise—the coolest shoemaker around, with Rihanna and Vetements both seeking him out for collaborations.
---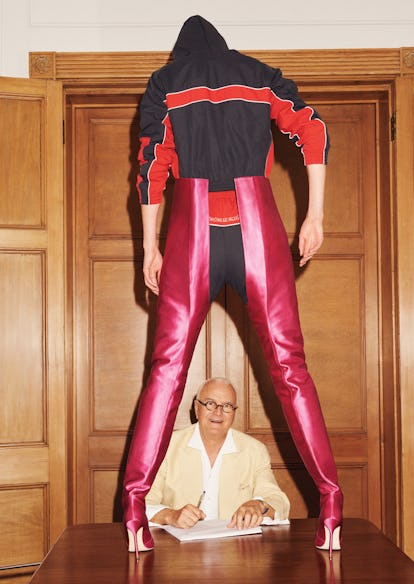 Photograph by Tung Walsh, Styled by Alexandra Carl
Manolo Blahnik has never paid much attention to fickle fashion trends.
Rather, for 46 years and counting, the Spanish shoe designer has hewed to his own refined formula for fabulousness: Start with a slender, modest heel, and add exquisite embellishments (or not). Briefly, at the beginning of his career, he designed platforms—which he recalls with total disdain.
"I did bricks!" he snaps. "For all the money in the world, I wouldn't do them again."
Yet, if sticking to his ways has made Blahnik a traditionalist, it has also turned him into the hippest guy in the shoe game. "The hippest?!" he gasps. "At 73, I'm definitely the oldest! Well, not as old as Valentino and Armani and Mr. Lagerfeld—those boys are in their 80s."
Certainly, he is having a moment. Vetements designer Demna Gvasalia and his brother, Guram, went straight to Blahnik for the satin pumps and waist-high waders for their spring 2017 collection, citing him as the first person who comes to mind when one thinks of high heels.
And while the two camps might seem completely at odds—Blahnik, a stickler for beauty and balance; Vetements, a proponent of the lopsided and ill-proportioned—they instantly hit it off. "I didn't know who the hell they were," Blahnik admits. "But there's something electric about them. They have this Slavic temperament, and I was like, 'Oooh, yes! Let's do it!' " No matter that Demna wanted to effectively destroy the shoes, cutting them up into DIY-looking slingbacks and strappy heels. "I immediately knew that what they were doing was right," Blahnik says.
Bombarded with requests, Blahnik has lately had his pick of cool young things with whom to collaborate. He created the suede court shoes with floppy bows for the buzzy fall debut of the New York label Khaite and will be making the sandals and boots for LVMH Prize winner Grace Wales Bonner's fall 2017 collection.
"I've been wanting to work with him for a long time," Bonner says. "He has such good taste and creates shoes in their purest form. He's also really fun to be around."
Rihanna would, of course, concur. This month, the devout Manolo fan launches a follow-up to the dazzling denim-and-sequin collection that she debuted in May. This one features three different boots—an ankle-length, a knee-high, and a showstopping thigh-scraper—all in shearling.
"She wants very sexy shoes," Blahnik says, ever accommodating. "Some of the things I like; some I like less."
Two more collections are in the pipeline. "All I do is work, work, work," he says, echoing RiRi's hit song. He is presently preparing an exhibition of his designs, which opens in Milan in January and will travel to St. Petersburg, Prague, Madrid, Dallas, and Toronto. The 220 shoes in the show were culled from his personal archive of about 30,000, which he used to keep at his home in Bath, England, before "it became too much."
Blahnik is also the subject of an upcoming documentary by the artist and fashion journalist Michael Roberts. Titled Manolo (The Boy Who Made Shoes for Lizards)—which he did, as a child—it features appearances by Anjelica Huston, Paloma Picasso, Sofia Coppola, and Anna Wintour, or "the conductor," as Blahnik likes to call her. "It's very amusing. But then, I always have a fun time, no matter what I'm doing."
For that reason, he can't fathom retiring. In fact, he finds the idea depressing. "If you love what you do, you enjoy it till you drop," he says. But before that happens, he may embark on a book about cathedrals in Spain. "I would love to take six months and go around with a driver and a good map to all the Romanesque and baroque churches that inspire me. But, oh, my God, I have so much going on—I haven't time to do anything!"
The 10 Must-Have Heels of the Season
The 10 Must-Have Heels of the Season
Watch W's most popular videos here: