At Iceland Airwaves Festival, Samaris is Reykjavik's Answer to Bat For Lashes
The Icelandic electronic band, fronted by one of Reykjavik's most connected musicians, is ready to break out.
Photography by Magnús Elvar Jónsson
---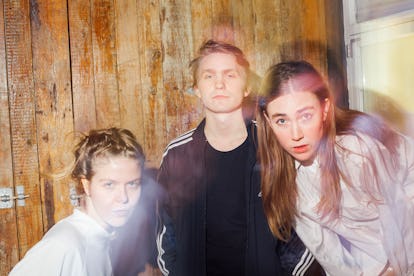 Photo by Magnús Elvar Jónsson. Produced by Alex Hodor-Lee.
Back when Samaris frontwoman Jófríður Ákadóttir — Jóf for short — was five or so, she had a tiny keyboard. She wrote songs on it; her dad, a composer, fleshed out one of her songs, recording it with a vocalist. By 12, she and her twin sister were stealing their mom's laptop to mess around on GarageBand; they recorded two albums' worth of tracks, and finally released an album under the name Pascal Pinon to much acclaim in 2009 — at age 14.
It was an auspicious start for a musician who would go on to juggle no fewer than four different musical projects simultaneously. This year alone, Ákadóttir, 22, released a new Pascal Pinon record (August's Sundur), a single with her fledgling supergroup Gangly (also featuring Sin Fang's Sindri Már Sigfússon), and her first English-language album with her dark, synth-driven band Samaris, July's Black Lights. The chic singer-songwriter is also working on a solo project as JFDR, for which she played her debut set at the Iceland Airwaves festival Thursday night. That record has been done for a year, but it's still forthcoming. The next night, she returned to the same stage at the Reykjavik Museum of Art for a moody, trance-like set with Samaris.
Samaris released their first album in 2013, a self-titled effort recorded entirely in Icelandic. Two EPs followed, and finally, earlier this year, they released the long-anticipated follow-up. Much of it was recorded remotely; Ákadóttir's various touring and recording obligations meant a relentless travel schedule, and her bandmates, clarinetist Áslaug Rún Magnúsdóttir and producer Þórður Kári Steinþórsson, also see to their own solo efforts. It was mostly written and recorded over a year beginning in January 2015, but during one intense week in Berlin in November, Steinþórsson and Magnúsdóttir locked themselves in the studio and pushed through the last leg of production. "I didn't really see the light," Magnúsdóttir said, grimacing.
"It's more upbeat," Ákadóttir said of the resulting record. It's a rare electronic band that features both soft industrial production and prominent clarinet, but such idiosyncrasies are part of what sets the Reykjavik music scene apart from other European musical hubs. "It's more driven," she added.
Though Ákadóttir insisted that she's not Samaris's bandleader, she is the primary lyricist and the uber-connector of the group. In addition to Gangly with Sigfússon, she makes a guest appearance on the latest Sin Fang record. She's also worked with Alex Somers, the producer, musician, visual artist, and longtime boyfriend of Sigur Rós frontman Jónsi. As she and I walked from the Kex Hostel bar, where we met up, to the artists' green room around the corner, she paused to greet friend after friend. Everyone knows each other in Iceland's music community ("You don't shut up for a whole day. It's also very exhausting," Magnúsdóttir said of the festival), and Jóf most of all.
The three musicians met at music school and, in 2011, they enrolled in a local battle of the bands competition called Músíktilraunur (past winners include breakout acts like Of Monsters and Men). Spoiler alert: Samaris won. As part of their prize, they played a set at Iceland Airwaves that year. ("What a prize," Ákadóttir said wryly — she had been playing the festival with Pascal Pinon since 2009.)
"Then, we were just a real band suddenly," Ákadóttir said. "We had to figure out what to do." Their 2013 single "Góða Tungl" took off, racking up nearly 1.5 million hits on Spotify. But in spite of that, they're still figuring it out — for their most recent album, they shared writing and production responsibilities, exchanging roles more fluidly than they'd done on Samaris. And for the next one, they'll have to figure it out all over again; each record begins with a frank discussion about where they want the sound to go and what each of the musicians are hoping to get out of the project.
Earlier in the week, I arrived early to interview Ákadóttir, Steinþórsson, and Magnúsdóttir — Ákadóttir was slated to play a set as Gangly that I wanted to catch before we spoke — so I sat down at a table at the hostel bar, nursing a coffee or four and waiting. It took about 30 minutes for me to realize that she was sitting directly across from me, consulting with a team of friends and fellow musicians. She and Magnúsdóttir, a clarinetist, stood up; someone remarked that the two women, clad in ivory silk, resembled cult members.
"I don't think that's what we're trying," Magnúsdóttir commented later, conceding that their tour wardrobe is indeed pretty much all white. Their quasi-mystical look, flowing and layered and monochrome, is reminiscent of Natasha Khan's Bat for Lashes. There's something of Khan in Ákadóttir, too — in her band's haunting sound and look, her vocals that sound akin to a seductive incantation, and her many, many side projects.
But at Friday night's Airwaves show, Samaris tried out something new, at least as far as their aesthetic is concerned. Their look has always been essential — they pick up their tour wardrobe around the world and sew some of their own pieces — so it wasn't without thought that they turned to a friend from the Netherlands to work on an interactive visual projection for the show. Ákadóttir wore her classic white, but Magnúsdóttir wore black — a pair of weird sisters in front of a swirling spectrum of light projected behind them that responded to their movements. As Ákadóttir, shrouded in tulle, raised her arms over her head, the projection behind her exploded into a burst of light and color. Everyone took notice.