Lucy McKenzie and Beca Lipscombe of Atelier EB Discuss Their Second Collection
Lucy McKenzie and Beca Lipscombe of Atelier EB Discuss Their Second Collection
---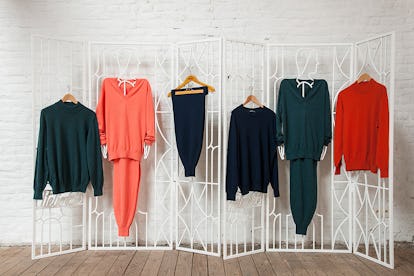 There's more to the Scottish artist Lucy McKenzie and the designer Beca Lipscombe's collaborative project Atelier EB than extremely wearable clothes, but it's a good place to start. Their second collection is all chic simplicity with a retro-modern edge: sharp, traditionally tailored wool coats, backless jumpers that put a subtle sexy twist on sumptuous cashmere, and a thick, buttery leather satchel that balances schoolgirl charm with grown-up minimalism.
"We design for our friends and each other," they chime, at their presentation at London's Cabinet gallery. Other inspirations include Cleopatra, who appears in cartoon form as a badge, and Madame Gres, and Chanel for how they "managed to imaginatively shape the modern woman."
Atelier EB began with The Inventors of Tradition, a research project into Scotland's legendary but struggling textiles industry. "These companies can only look forward because it's all about keeping the factory open," explains Lipscombe, who discovered dust-coated racks full of vintage Dior, Givenchy, and Katherine Hamnett alongside old British Rail uniforms at Mackintosh. "Many were flabbergasted at the idea they had this heritage."
While warm woollies dominated the first collection (both women are from Scotland), this year, after holidaying together on Stromboli's hot black sands, they've included crisp cotton skirts and T-shirts hand-printed with Egyptian motifs. Delicate necklaces bearing heads cut from old coins are another covetable addition.
"It's about creative satisfaction," says McKenzie. "As an artist, I love the idea I can make a huge painting or tiny little bracelets."
Atelier EB's Beach side boutique is part of "Volcano Extravaganza: Evil Under the Sun" on Stromboli, Aeolian Island, Italy through the end of the summer. Work by Atelier EB is included in "The Cat Show," curated by Rhonda Lieberman, White Columns, New York: (Organized in partnership with the Social Tees Animal Rescue.) June 14 – July 27, 2013.