Aubrey Plaza Plays an Instagram-Obsessed Stalker in the Ingrid Goes West Trailer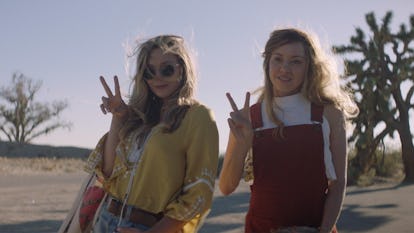 Star Thrower Entertainment
We've all gotten a little carried away Instagram-stalking a random Internet influencer. Seriously, we have an entire weekly column devoted to the matter.
But in the trailer for the upcoming dark comedy film Ingrid Goes West, Aubrey Plaza shows us just how scary an Internet obsession can get.
Aubrey plays Ingrid, a young woman fixated on social media influencer Taylor Sloane, played by Elizabeth Olsen. Ingrid becomes so obsessed that she packs up her life and moves to Los Angeles in hopes of befriending Taylor. The trailer gives us a glimpse of Ingrid's journey to meet her idol, as well as a hint as to what may have prompted her rash move. It opens with a mid-meltdown Ingrid stalking a friend's wedding photos on Instagram. Smash cut to Ingrid slamming her car door and storming into the wedding, where she dramatically confronts the bride and pepper sprays her.
We then see shots of Ingrid heading west to California (with a new blond hairdo in tow), where she eventually befriends Taylor. According to a plot synopsis on the website for the Sundance Film Festival, where the film premiered in January,"After Ingrid adopts a Taylor-made identity for herself, her machinations to prove she's BFF material for her Insta idol are underway—that is, until she meets Taylor's obnoxious brother Nicky, who threatens to tear down her façade." Talk about friend drama.
If you're used to watching Aubrey Plaza in lighthearted comedies like Parks and Recreation, Mike and Dave Need Wedding Dates, and Dirty Grandpa, you're in for a rude awakening. For a preview of what she can do with a dark role, see FX's Legion and the 2014 Dane DeHaan indie Life After Beth, where she plays the titular character, a zombie. The actress goes from hilarious to downright scary in this new, extended look at the film.
Sundance's website says, "Aubrey Plaza is fearless in her performance as Ingrid, whose elaborate fabrications and unsettling behavior lead to an avalanche of harrowing and squirm-worthy situations."
Related: Netflix's Girlboss Trailer Is Your Daily Dose of Female Empowerment
Watch W's Most Popular Videos: