Aubrey Plaza and Bill Murray Spoof Robert Pattinson
Aubrey Plaza is set to host this weekend's Independent Spirit Awards, and Bill Murray joined her to spoof nominee Robert Pattinson.
---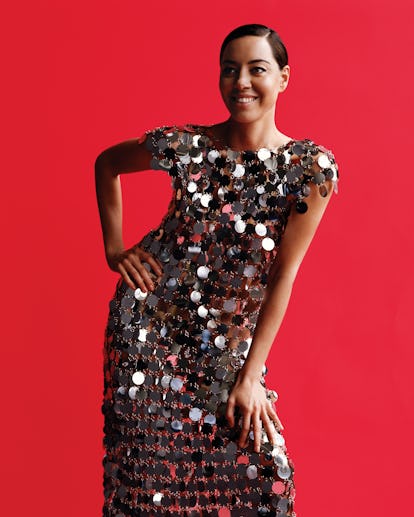 Photograph by Alasdair McLellan. Styled by Marie Chaix; Hair by Orlando Pita for Orlando Pita Play; Makeup by Francelle for Lovecraft Beauty at Art + Commerce; Manicures by Yuko Tsuchihashi for Chanel at Susan Price NYC; Set design by Nicholas Des Jardins at Streeters. Produced by Leone Ioanou at Pony Projects; Production Coordinators: Christopher McCann, Michaela McMahon-Dunphy; Photography assistants: Lex Kemberly, Simon Mackinlay, Peter Smith; Fashion Assistants: Melina Brossard, Victor Cordero, Margeaux Cohen, Justin Hsiung, Fiona Green, Ali Kornhauser; Tailors: Christoforos Kotentos, Hwa Park; Production Assistants: Rafe Andrews, Sam Thompson, Bram VanderMark; Special Thanks to Milk Studios, Pier59, Dishful, Noz, Mr. Paris.
The Oscars are on Sunday, but the most fun awards ceremony happening this weekend happens to be the Independent Spirit Awards. Famously held on a tent near the beach and with a lax dress code (Timothée Chalamet got roasted one year for showing up looking like a gas station attendant in Off-White), the show tends to honor more challenging and underground fare than the Academy Awards, but has a whole lot more fun while doing it.
This year, it may also have a few guests the Oscars decidedly won't have as well. Robert Pattinson, Jennifer Lopez, Adam Sandler, Shia LaBeouf, and Octavia Spencer are all nominated despite getting snubbed by the Oscars (in fact, Renée Zellweger is the only actor to be nominated at both awards).
Also unlike the Oscars, the Spirit Awards have a host: Aubrey Plaza.
Plaza is hard at work promoting the show, and teamed up with Bill Murray (a guy who famously just shows up at random places) for a quick spoof of one of the night's biggest nominees: the Robert Pattinson and Willem DaFoe-starring The Lighthouse.
Plaza adapts Pattinson's infamous handlebar mustache from the film, while Murray grabs a pipe to stand in for DaFoe and both do their best increasingly deranged lighthouse attendant voice.
Plaza as Pattinson is something of a stroke of genius. Both came to prominence in beloved mainstream fare (Parks & Rec and Twilight, respectively, as different as those projects may be) before really finding their groove as two of the most exciting young leads in indie cinema (Plaza's latest, Black Bear, is coming off stellar reviews at the Sundance Film Festival). Plaza might also have some helpful tips for Pattinson's upcoming turn as Batman: she already hit the dark take on a tortured comic book hero thing out of the park in Legion.
In fact, the only thing more appealing than Plaza spoofing Pattinson might be the two appearing on screen tomorrow. If not in some buzzy indie film, then perhaps in a future installment of Pattinson's Batman series. She's got the super villain thing down. Maybe Murray could join them as Batman's butler Alfred.
For now though, at least we have the Spirit Awards to look forward to Saturday night on IFC.