Aurora James Has Big Plans for the 15 Percent Pledge
"People know me from my work as a fashion designer. But my work as a Black woman isn't fashion-specific."
---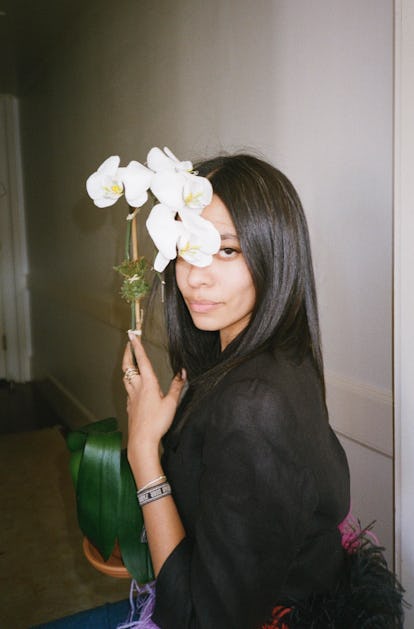 Photograph courtesy of Christopher Sherman.
It started with a scrawl. "Okay, here is one thing you can do for us," the fashion designer Aurora James wrote in black pen on white paper before uploading it to Instagram on May 29th—"you," in this case meaning a retail industry that seemed content to pat itself on the back for sharing vacant platitudes about anti-racism, and "us" being the Black community. In the caption and subsequent slides of the post, James challenged Whole Foods, Target, MedMen, Walmart, Saks, Sephora, Net-a-Porter, Barnes & Noble, and Home Depot to commit to buying 15 percent of their products from Black-owned businesses. "So many of your businesses are built on Black spending power. So many of your stores are set up in Black communities. So many of your sponsored posts are seen on Black feeds," she wrote. "This is the least you can do for us. We represent 15% of the population and we need to represent 15% of your shelf space."
In the two months since, James has succeeded in getting Sephora, Rent the Runway, West Elm, and MedMen to commit to what she's calling the 15 Percent Pledge, an initiative that grew at warp speed out of that post into a fully-fledged 501c3 non-profit. It's been a challenging but exhilarating time: She already has a full-time job running the accessories brand Brother Vellies, and she's run into plenty of resistance and apathy along the way. But it's clear she sees this as a higher calling. "People know me from my work as a fashion designer," James said on a phone call in July. "But my work as a Black woman isn't fashion-specific."
While some companies have embraced her direct call to action with a spirit of openness and collaboration, others don't seem to understand that concrete change requires long-term accountability. "I think that it's easier for people just to make a donation and walk away from it and assume that people are going to start forgetting about it," James said. One of the most difficult parts of the process, she said, has been getting behemoth corporations to do some serious introspection. As James succinctly put it in a live-streamed video conversation with Washington Post fashion critic Robin Givhan last month: "You can't actually do the shelf space thing without addressing the issues in your entire business at large."
There are three core steps to taking part in the pledge. The first is taking stock of representation within the company by doing an internal audit, the second is being accountable for what those numbers are by releasing them publicly, and the third is committing to sustainable change, even if it takes years to adapt the way they do business. "Every single conversation is different, and [for] some of them, it's taken ten, fifteen separate conversations to really work through all of it," James said. "Other ones are coming to the table with a little bit more of a fleshed-out plan. But a lot of it is working through what some of the pain points are going to be and I think that's why so early on, too, we identified that the pledge needs to be a full nonprofit organization so that we can start putting some of that infrastructure into place."
While fundraising will be a major focus going forward, James started by building a team for the initiative. Right now, around ten people are on board, including a web designer, a social media manager, and an attorney. Two of James's close friends, author and former Teen Vogue editor Elaine Welteroth and Snapchat head of fashion and beauty (and Vogue contributor) Selby Drummond, have also been helping with daily operations. "We're all sort of wearing different hats, but we're also all wearing every hat," James said.
When I asked about people she'd spoken to in the fashion industry who had been receptive to the pledge, she paused for several seconds before noting that she'd had some productive conversations with Stephen Kolb, the president and CEO of the CFDA, but otherwise didn't point to any department stores or e-commerce sites who had engaged with her in a meaningful way. Yet.
"Look, none of us are perfect. I'm an optimist and I'm about building a productive future," she said. "We are all at fault, but the system is to blame, and that's a really important part to remember. So it's really about, how can we acknowledge our faults in these situations, and then how can we actively work toward fixing the system? That's what I want to do."
She also expressed frustration with two retailers in particular, SSENSE and Moda Operandi. "SSENSE … just, like, publicly said no, they weren't going to. And for me, it's really interesting to think about why someone would do that," she said. As for Moda, she noted that they had posted on their Instagram stories and website about committing to making 15 percent of their new brands and trunk shows be from Black designers and Black-owned brands, "but they never talked to us about that, and they never even responded to us. And they definitely know where to find me. We've worked together," she said. "When you just put something like that out there and you don't actually work with our organization, then, A, you're co-opting an idea from a black woman and, B, you are not doing it properly, because the whole point of the pledge is that there's accountability and there's outside accountability from our organization."
According to a Moda Operandi rep, the company has since had conversations with James about a formal collaboration and had already initiated contact with an outside organization to ensure accountability. And although a Vogue Business article stated that SSENSE as well as Dover Street Market had "declined to comment and are not participating in the pledge at this time," a rep for SSENSE clarified that the company "has not publicly or privately declined participation." Additionally, Net-a-porter and Browns are reportedly working on plans to participate in some capacity, and James added in a later email that she has had "some very positive discussions with many different brands" in the industry.
"I think I've been really clear with everyone that this is a collaborative effort," James said. "I want to see Moda Operandi do this in a great way. I want to see Net-a-Porter and Saks and Macy's do this in a really incredible and thoughtful way."
As for her own work as a designer, James says Brother Vellies has been a creative and emotional safe haven for her amid the chaos. Even though the brick-and-mortar shop in Brooklyn has been closed since March, she has found ways to keep the business growing, in particular by launching a subscription program called Something Special, in which customers who sign up receive one thoughtfully designed item each month, like a ceramic mug from Oaxaca or sweetgrass incense made by Native American tribes. "When I think about what's beautiful and what I want to put on my body, I need it to really stand for something," she said. "Now more than ever, it's important for people to wear things that are connected to their value systems."
But the increase in workload has caused some strain. "I wish I could say to you that I've been doing a great job with self care and all of that, but I haven't been. I've been working until three in the morning some days just to try to be slightly less behind on everything," James said. "There are points in your life where you have to make certain sacrifices for the things that you believe in."
The most rewarding part of the process so far has been getting excited messages from Black business owners who have started to receive requests for line sheets or phone calls from the participating retailers. One woman DM'ed James after getting an inquiry from Sephora, who she'd been trying to get her products in front of for years. "If they pick up her brand, that will just change her life. I started my own brand at the flea market, and I've seen what can happen when a major retailer takes a chance on a small brand and does it in a really incredible way early on," James said. "I want more Black people to have that opportunity."
Related: Brother Vellies' Aurora James Just Wants Women to be Comfortable in their Shoes