Aurora James on Balance, Influence and the Women Who Inspire Her
The Brother Vellies designer and founder of the 15 Percent Pledge opens up about her style icons, the most prized possession in her closet, and her belief in using her platform for good.
Photographs by Ford
---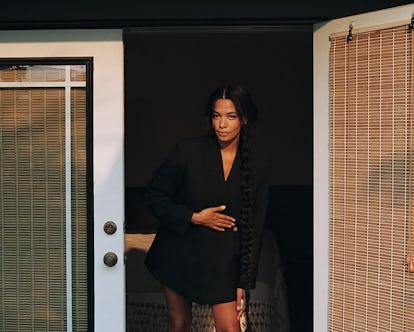 Hair by Rachel Lee Wright for Pattern Beauty at M+A World Group; makeup by Uzo for Nars Cosmetics at A-Frame Agency.
For our annual "The Originals" portfolio, we asked creatives—pioneers in the fields of art, design, fashion, comedy, activism and more—to share their insights on staying true to themselves and pushing the creative envelope in a chaotic year. Read all the Q+As from this year's group here.
In June, you launched the 15 Percent Pledge, challenging American retailers to commit a minimum of 15 percent of their shelf space to Black-owned businesses, while balancing your work as the designer of Brother Vellies and working to get Joe Biden elected. Since then, you've gotten Sephora, West Elm, MedMen, Rent the Runway, and Yelp to take the pledge, and Vogue—whose September cover featured your painted portrait—has committed to commissioning 15 percent Black creatives.
My ultimate goal is for every retailer in this country to take the pledge, and for other industries to start evaluating how they can also join. It would be amazing to work at companies that are doing whatever their regular business model is, but being actively antiracist in that process.
How have you been balancing your work as a designer with Brother Vellies with the work you're doing on the Pledge?
It's been supertough, because in the weeks leading up to the election, I had a third job—as a resident of this country. I worked on figuring out with Michael Bloomberg's team the best way to alert all these formerly incarcerated men and women in Florida that there was money raised to pay their fines. A law recently passed in Florida that says you can't vote if you are a former felon and you have any outstanding fines, which is a type of voter suppression. There are many of these sorts of scenarios that all need to be actively worked on going forward. To me, it's obvious that that's how my time should be spent, even though there's a million things that I would also like to do. If you're anyone who has any influence right now, it's like, what are you using your influence for?
Who was the first person who made you realize you could break the rules?
From a fashion perspective, definitely my mom. One of my first jobs was at Holt Renfrew, a Canadian luxury retailer that actually carries zero Black-owned brands. My mom told me, after I started working there, that she had been fired from working there by showing up wearing a completely sheer Prada top. I also went with her to rally for women's rights to go topless in Canada, because men could be topless but women couldn't. And I remember, I was like, "Mom, do you want to be topless? Do you want to not wear a shirt?" And she said, "Of course I want to wear a shirt, but I want the right to not wear a shirt if men have the right to not wear a shirt. This isn't about what I want to do; it's about what I'm allowed to do based on my sex."
Who is your style icon, and why?
Some of the women in Africa who have remained untethered to Western standards of beauty and dressing—particularly in the Omo Valley, the women of the Mursi Tribe. I think they're so beautiful, how they decorate themselves.
What is your most prized possession in your closet?
My grandmother's fur coat. It still has her Werther's Originals in the pocket.
How are you feeling about the rest of 2020?
I feel like we are in a crazy spaceship careening through a galaxy at a rapid pace, with no concept of what's around us or what's ahead; we're just going. I've talked a lot throughout my career about my largest mode of transportation being a leap of faith, and I feel like right now, we are all on the biggest leap with absolutely no idea where we're going to land.
Related: Aurora James Has Big Plans for the 15 Percent Pledge