Ava Nirui Makes Bootleg Look Bougie
Meet the woman recycling luxury logos on Instagram.
---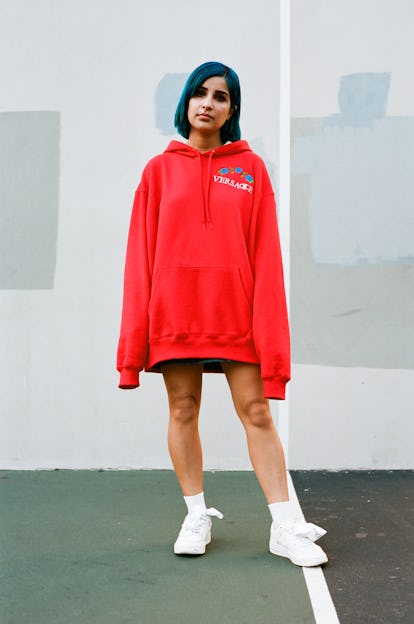 Alex Lee
Ava Nirui, 25, is a freelance writer, photographer, and luxury DIY-er who has gained over 33,000 followers on Instagram for putting Louis Vuitton logos on her asthma inhalers and bedazzling her Nikes. She also happens to be the eCommerce director at Assembly New York, a hip boutique on New York's Lower East Side.
Born in Sydney, Australia, Nirui's foray into manipulating fashion labels began one year ago with her "Bootleg Barbie" project, for which she made doll-sized versions of avant-garde, gender-fluid designs by brands like Hood By Air, Eckhaus Latta, and 69.
"The fashion world is so set in it's ways, why not challenge its rigidity?," Nirui says of her creative sense of humor. From Barbies, she's moved on to manipulating life-size logos, repurposing Dior and Chanel packing ribbons as shoelaces and Prada dust bags as dresses. Her work is so clever, it might make you want the fake version instead.
Three words that describe your style: Lazy, lazy, lazy.
Style icons: Cam'ron, Juelz Santana, Jim Jones, Soulja Boy, my mom.
Recent inspirations: Above the Rim, Canal St, Lad/Chav culture, Dipset, Chanel Sport, Tom Sachs, Stephen Sprouse, Dapper Dan, Gregg Araki.
How did you get started with your DIY logo project? How would you describe what you do? And what's your process? I've always been obsessed with stenciling, screen printing and spray painting objects. When I was in junior high, I remember painting everything in my room, including my desk and my cabinets, metallic shades to make it stand out and look more unique. Manipulating the meaning of something through slight visual alterations is an interesting concept to me. About a year or so ago, a friend and I began a "Bootleg Barbie" project where we created imagined outfits for Mattel dolls based on the runway designs of several unlikely, gender-fluid designers like Hood By Air, Eckhaus Latta and 69. In a way, my work, especially the Barbie project, was developed out of frustration towards the sterile and serious nature of the industry — the fashion world is so set in it's ways, why not challenge its rigidity? From there, I became interested in updating familiar objects with logos and iconography from luxury/contemporary designers in order to transform its worth in a humorous way. I'm very big on repurposing, recycling and reusing items that might traditionally be seen as "trash" or unimportant — luxury packing ribbons become shoelaces, dust bags become dresses and snap lock bags become fancy snack holders.
Do you actually use those inhalers? Yes, I have pretty bad asthma. I found the blue Ventolin casing so weird and sterile, so I thought I would make my inhalers fun like everything else I customize.
First luxury item you ever bought with your own money: Prada sneakers.
What does a logo mean to you? A logo is a visual symbol that is representative of a lifestyle. By applying or wearing a logo, you can completely skew and alter the meaning of an object or garment, which is a concept that plays into my work a great deal. To me, logos are the most powerful cultural signifiers.
Why do you think logos are "back" in fashion right now? Throughout the past decade, luxury brands weren't making as many logo-heavy pieces, but now with the rising popularity of streetwear (like Thrasher and Vetements) and in-your-face graphics, I think designers are tapping into this a little more on the runway. Take Alessandro Michele's Gucci for example — he created logo tee's that resembled bootlegs, which is quite progressive for a couture fashion label.
Favorite logos of all time: Louis Vuitton, Champion, Nike, Dead Kennedys.
Daily uniform: Baggy tee, Jean Paul Gaultier denim skirt, Nike AF1's, white tube socks, Louis Vuitton Twist Bag.
Favorite places to shop: Dover Street Market and eBay.
Where you go to get the best knockoffs: Canal Street and Paddy's Markets. You can also find some fire bootlegs on the side of the road in Bushwick.
Last art show that you saw (and liked): Jordan Wolfson's Colored Sculpture at David Zwirner Gallery
Summer reading: In My Room by Adrienne Salinger.
Currently listening to: Juvenile, Three 6 Mafia, Adolescents
Night out look: A simple dress, nice handbag and sneakers. My hair is blue right now, so I can't wear any fun/colorful outfits without looking like a 2009 scene girl 🙁
Local hangout spot(s): Maria Hernandez Park, Milk & Pull!
Preferred footwear: Sneakers always. I don't like wearing heels.
How Ava Nirui Recycles Luxury Logos
Beauty secrets (makeup, hair products, bathroom rituals, etc.): Chanel makeup is actually incredible. It's light, it stays on and the liquid eyeliner goes on super smooth. Also, coconut oil.
Best recent discovery: Twin Suns Deli
Style pet peeve: Blogger girls who drape their jackets over their shoulders. It looks dumb.
Last purchase: A vintage Louis Vuitton polo dress.
Lusting after: I've always wanted this hand painted Comme Des Garcons leather jacket.
What's always in your bag: Inhalers and deodorant, as well as a million pennies and receipts.
Something you would never wear: Leggings as pants. Flip flops. I also find Isabel Marant wedge sneakers very offensive.
Most prized possession(s) in your closet: Chanel Perspex Heels from their Spring '16 collection and my Mom's Cartier watch.
Top five favorite Fall 2016 collections: Undercover, Gucci, Coach, J.W Anderson, Jacquemus
Favorite accounts to follow on Instagram: @erikabowes, @bessnyc4, and @ronanksm
Watch W's most popular videos here: