Avengers: Infinity War Proves That Marvel Can't Stop Beating Itself at Its Own Game
Breaking box office records is a Marvel Cinematic Universe specialty.
---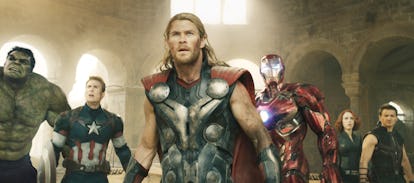 Walt Disney Co./Courtesy Everett Collection
There's only one film that could beat Black Panther's record-breaking ticket sales, and that would be Avengers: Infinity War, which just had the largest global box-office opening in history.
$630 million dollars is all it took for Infinity War to win big at the box office this weekend, with $250 million coming from domestic sales and the remaining $380 million from global sales, according to The New York Times. Infinity War still has yet to touch down in China and Russia, where it will likely be just as huge of a hit, if not bigger.
The record for largest global box-office ticket sales was previously set by a different franchise (The Fate of the Furious took home $542 million during its opening weekend in 2017), but if anyone naively had no faith in Marvel's staying power, the new Avengers film's achievement at the box office last weekend proves that there is no escape from the Disney-Marvel-Fox culture vortex. Compare that $630 million earned by Marvel's Infinity War to DC Comics' Justice League, which, despite costing somewhere in the same ballpark as Infinity War to make, only brought in $94 million its opening weekend. Out of the top 10 domestic openings in the United States, nine of those are held by Disney and six by the Marvel Cinematic Universe. Once the second half of Infinity War (the second installment is yet to be officially titled) is released in 2019, the Disney Marvel cinematic universe will have completed 20 films in the franchise.
Part two will have to make more than $630 million to keep Marvel in the running for the prize of biggest global box-office opening, but given the reception of this film after just one weekend (critics and fans are praising Infinity War left and right), the third volume of Guardians of the Galaxy on the way, and the Black Panther sequel coming up, it is highly likely that Marvel could beat itself at its own game soon. The next step for Marvel's record-breaking A-list superhero crew? Raking in $1 billion across the globe in just one weekend. If anyone can break that record, Marvel can.
Related: Obituaries of the Avengers Who (Actually) Die in Infinity War