Karen Gillan Is Balancing Life as Both a Marvel Avenger and Hollywood's Newest Triple Threat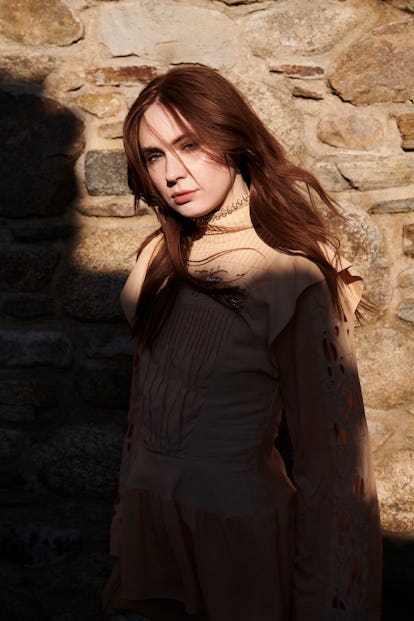 Karen Gillan is hard to miss. Five feet eleven, flowing red hair, an infectious Scottish accent—it's the perfect storm of attributes that will invariably make you take notice when she walks into a room. It's that much more ironic, then, that her most recognizable role to date, as Nebula, the bald, blue-skinned alien from Guardians of the Galaxy, is Gillan at her most unrecognizable.
But Gillan, you see, is always ready for a challenge. "In the audition for [Guardians of the Galaxy], they asked if I was willing to shave my head, and it sounded like a cool project and I was up for this change. I've always had long red hair that was kind of a defining feature for me, so to kind of rid myself of that…" It's worth noting that at this point, Gillan was under the impression that her character, daughter of the evil alien warlord Thanos and sister to Zoe Saldana's Gamora, was only going to be a minor role, amounting to just eight days of shooting. "Yes. It seems a little extreme, in retrospect," she admitted.
But it's a risk that paid off, as it turns out that Nebula has stuck around far longer than Gillan had ever imagined. It's been four years since the first film debuted in 2014, and in that time, she's reprised the role in last summer's sequel and will do so once again in this weekend's Avengers: Infinity War, posed to be Marvel's biggest movie ever, which will bring the Guardians into the fold alongside Iron Man, Thor, Spider-Man, and the rest of the gang. "I felt like the Guardians were a family and we were about to meet all of our cousins," Gillan said. (She's also fully grown back her hair in that time, she's proud to report, noting, "When it is first growing in and is completely vertical and you are five feet eleven, people will mistake you for a man.")
Just as the Guardians have joined a roster of established heroes, Gillan found herself working among some of her own acting heroes while filming the movie. "I was really excited to work with Mark Ruffalo and Robert Downey Jr., just because I grew up watching their films and think they are such incredible actors," she said. "I really wanted to see their process and behind-the-scenes. And it was great. What I love about them as actors—and you can see it on the screen—they are so loose and inventive, and there is lots of improv happening. It just feels really natural to them."
Of course, the 30-year-old can't say much about the film; mainly because, despite the fact that we're chatting just five days before it is slated to hit theaters, she still has yet to see it. "Hardly any of us have even read the script for the film," she added. "They are so secretive that they've gone so far as to write a fake script for people to read. So you just don't even know if what you're reading is real or not until you are there reading the words. We are in the same position as all of the fans of the film. I just can't wait to watch it. I mean, we were shooting it for a year. I'm not entirely sure how any of my scenes fit into the overall story. It is actually kind of a fun place to be in, because it is going to be surprising."
Gillan was poised to figure it out days later, at Monday night's world premiere, which gathered all of the Avengers in Los Angeles, but first she had another red carpet to tend to: the premiere of her directorial debut, The Party's Just Beginning, which opened at the Tribeca Film Festival on Sunday night.
The film, which Gillan also wrote and stars in, follows a 20-something woman named Liusaidh dealing with the aftermath of her best friend's suicide, leading her on a path of nonstop partying and trysts with anonymous men. Though the film, which is at times both wickedly funny and profoundly heartbreaking, is set in Gillan's hometown of Inverness in the Scottish Highlands, the film is by no means an autobiographical tale. "Initially I read a statistic that sparked the whole thing that said that suicide rates in the Highlands of Scotland were significantly higher among young men than the rest of Scotland," she said. "I thought it was so strange because it was such an idyllic and picturesque place to live. I was like, 'Why is this dark statistic looming over this beautiful place?' I knew that I wanted to tell that story, and take inspiration from my own life and thread it through this fictional storyline."
It's the first screenplay that Gillan has ever written, and one she began working on six years ago. She wrote the character of Liusaidh knowing that she'd like to portray her, but originally did not anticipate stepping into the director's role, as well. "As I thought about it more and more, I realized that directing was really appealing to me, and thought, This should probably be my first feature," she noted.
From there, it took a few years to get the film off the ground and into production. "It was really challenging to get it funded because it is just so challenging to get any film funded," she said. "We did so many meetings, and finally one of them worked out with an American company who wanted to support a female filmmaker. It was a bit of a dream situation."
For her first time in the directorial chair on a feature film (she previously directed two shorts in 2015), Gillan said, "The main surprise for me was that I was completely calm. I think I was preparing myself for some form of a crazy, stressful experience, because people were telling me it was going to be like that. But i didn't experience anything like that, at all. It just felt like the most natural experience."
An innate familiarity with the script, as well as the setting, certainly helped. The movie filmed primarily in Glasgow last winter, with several scenes filmed in Inverness, as well. "It was so surreal," Gillan said of filming the movie in her hometown. "It is quite a rural place, and not a lot is filmed there. In fact, the only other thing filmed there is this film called Loch Ness starring Ted Danson, featuring the Loch Ness monster."
Naturally, filming so close to home comes with its quirks, as well. "It was so ridiculous because I was directing the film and in this leadership position at work, just taking care of business, and then I would go home and my mom would be badgering me about taking my laundry home," she said. "I was like, 'Mom! In a minute!'"
Gillan herself recently relocated from Los Angeles to New York, and the serendipitous fact that the film about her hometown is premiering in her new hometown is not lost on her. "It's such an honor to have it play in such a prestigious festival," she said.
Now that she has the two major premieres behind her, Gillan is looking forward to properly settling in to her new city. "I've been establishing a little routine for myself. I write screenplays, I walk around, and I drink a lot of coffee," she said. "And I've been eating the pizza here. It's great!"
Her favorite? Prince Street Pizza, of course. "They took a picture of me and put it on the wall, so I was quite honored."
For anyone, Avengers status notwithstanding, it's certainly a dream come true. "I've just always wanted to live here," Gillan continued. "I grew up in the Highlands of Scotland watching Friends and thought, I want that life. So I found an apartment with a brick wall, and I'm just sort of emulating that life. I still need to get friends here, but I'm working on it."
Related: Pom Klementieff Is Marvel's Newest Avenger—And Hollywood's Next Big Star