Avengers: Infinity War Trailer Has All of Your Favorite Black Panther Characters, As Promised
The gang's all here (again).
---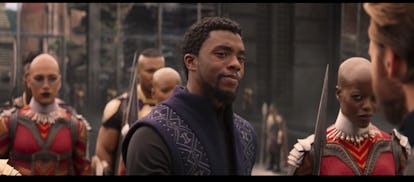 Marvel Studios/YouTube
After clearing the $1 billion mark at the box office, Marvel Studios knew audiences couldn't wait until next year for the return of Black Panther, so they brought back all of your favorite Wakandans for Avengers: Infinity War, premiering April 27.
Between Scarlett Johansson's Black Widow, Chris Evans's Captain America, Robert Downey Jr.'s Iron Man, Mark Ruffalo's rendition of the Hulk, Elizabeth Olen's Scarlet Witch, and Chris Hemsworth's Thor, the gang's all here to join forces as the Avengers for the third time. Black Panther's T'Challa, Okoye, and Shuri, The Guardians of the Galaxy's Star-Lord and Gamora, Spider-Man and Doctor Strange join this round, in which the Avengers must work together to collect Infinity Stones—six gemlike remnants of the ancient universe—and battle Thanos (played by Josh Brolin) to save the planet from destruction.
As promised in the post-credits sequence of Black Panther, the gang also appears to travel from New York City to Wakanda, the hidden, uncolonized African nation that contains the largest quantity of Vibranium, and is the home of Chadwick Boseman's King T'Challa and Letitia Wright's Princess Shuri. A smattering of mountains, volcanoes, brimstone, and Vibranium shields indicate that Wakanda will be a battlefield in Infinity War, as T'Challa and Shuri give Captain America and Black Widow a tour of their home country while in the midst of waging a war against the evil Thanos and Tom Hiddleston's Loki.
And even though they may not have made an appearance in the latest Infinity War trailer, Thor: Ragnarok's Tessa Thompson, Black Panther's Winston Duke and Angela Bassett, Iron Man's Gwyneth Paltrow, and Ant Man's Paul Rudd are slated to be in the film.
Of course, any Marvel movie trailer would not be complete without at least one moment of levity. In this instance the comic relief comes from Chris Pratt's Star-Lord, as he playfully razzes Iron Man for his lackluster plan to save the world, and from Tom Holland as Spider-Man when he introduces himself to Benedict Cumberbatch's Doctor Strange by his real name, Peter Parker.
Related: The Runaways' Virginia Gardner Is Breaking Superhero Taboos as Marvel's First Gay Character