Exclusive: See Every Item In Alaïa's Special Anniversary Capsule Collection For Barneys New York
The famed designer has created eight exclusive designs in honor of the house's 35th anniversary with the department store.
---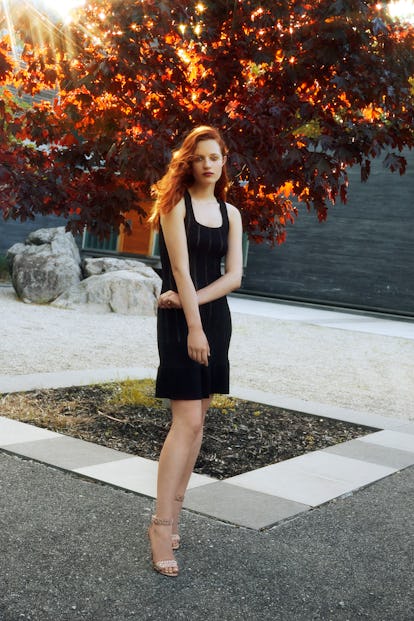 Long before Cher Horowitz refused to get on the ground—despite being held at gunpoint—for fear of ruining her Alaïa (or, as was famously uttered in Clueless, "An A-What-a?"), the Tunisian-born couturier was already sitting pretty on the racks of Barneys New York.
The famed department store was, in fact, the first to bring Azzedine Alaïa's designs to the United States in the '80s, and 2017 marks the 35th anniversary of the retail relationship. And what better way to celebrate than with some brand new Alaïa dresses?
To commemorate the milestone, Alaïa himself has designed an exclusive eight-piece capsule collection for the store. ""Barneys is a very important place for me. It has always supported me, and I'm grateful for that fidelity and support,"Alaïa said in a statement.
The collection takes inspiration from the house's archives, including vintage advertisements and editorial images from previous collections dating back to the decade when their relationship began. The resulting pieces range from a classic fit 'n' flare style, which will sell for $2,050, to an embroidered cocktail frock going for $13,400. The pieces are done in Alaïa's signature color palette of red, black, and white, with an emphasis on body-conscious silhouettes done in luxe knits. Alongside the capsule collection, which are now available at select Barneys New York stores, the store will also be launching two exclusive handbag styles from the brand, and will now offer Alaïa shoes and bags online at its website.
To celebrate the new collection, the store is rolling out window installations at our Madison Avenue and Downtown flagships in New York, along with the Beverly Hills store, drawing inspiration from Alaïa's signature die-cut petit fleur pattern. The Madison Avenue location will also feature rotating vignettes that provide a 360-degree view of the collection.
The new collection comes at an exciting time for the designer, following his return to Paris Haute Couture just a few weeks ago, when he staged runway show that drew supermodels like Naomi Campbell and Karlie Kloss to return to the catwalk.
Here, an exclusive look at all of the styles available in the new Barneys New York capsule collection:
See Alaïa's Special Anniversary Capsule Collection For Barneys New York
A dress from the capsule collection celebrating the 35th Anniversary of Alaia at Barneys New York.

Tom Sibley
A dress from the capsule collection celebrating the 35th Anniversary of Alaia at Barneys New York.

Tom Sibley
A dress from the capsule collection celebrating the 35th Anniversary of Alaia at Barneys New York.

Tom Sibley
A dress from the capsule collection celebrating the 35th Anniversary of Alaia at Barneys New York.

Tom Sibley
A dress from the capsule collection celebrating the 35th Anniversary of Alaia at Barneys New York.

Tom Sibley
A dress from the capsule collection celebrating the 35th Anniversary of Alaia at Barneys New York.

Tom Sibley
A dress from the capsule collection celebrating the 35th Anniversary of Alaia at Barneys New York.

Tom Sibley
A dress from the capsule collection celebrating the 35th Anniversary of Alaia at Barneys New York.

Tom Sibley
Related: Azzedine Alaïa Is Making an Uncharacteristically Conventional Move: The Beloved Fashion Designer Is Returning to Couture Fashion Week
Adam Driver, Andrew Garfield, and More Deliver Cher's Iconic 'Clueless' Speech