The Babadook Director Jennifer Kent Was Called a Sexist Slur at a Film Festival, and She Responded Perfectly
She's the only female director in competition at the Venice Film Festival.
---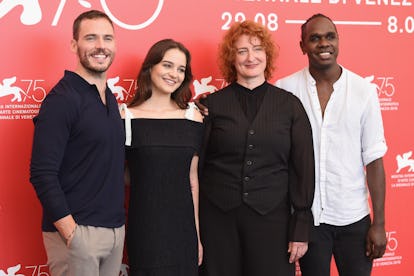 Stefania D'Alessandro
Jennifer Kent is the director of The Babadook, both an early entrant in our current renaissance of artsy horror films and an accidental gay icon. With her new film, The Nightingale, she is also the only female director with a film in competition at the Venice International Film Festival (other female directors have films screening at the fest, but none is in the main competition).
The film, a female-fronted portrayal of gothic revenge, was screened for the media a day before its official review, and was met with rave reactions. Most critics cheered when Kent's name appeared during the end credits, but reports quickly surfaced that one man in the audience heckled Kent and yelled an Italian slur that can be loosely translated to "whore," according to Reuters. Spirited and impassioned responses to films at screenings, often in the form of cheers, jeers, and exaggerated boos and standing ovations, are the norm at European film festivals (usually to the bemusement and annoyance of Americans in attendance), but the harshly sexist and uncalled for nature of the attack obviously ruffled many. Word of the incident quickly spread both on social media and through chatter at the festival, and Kent ended up being asked about it at a press conference.
"I think it's of absolute importance to react with compassion and love for ignorance—there is no other option," she said.
The festival issued a statement saying that they had identified the offender and revoked his credentials for the rest of the festival. However, his identity didn't remain secret for long. A man named Sharif Meghdoud, who writes online movie reviews in Italy, took to Facebook to claim responsibility.
"In order to avoid any kind of speculation about what I said I repeat here 'shame on you *** you suck,' " he wrote in Italian.
"I am not opposed to whistles and insults at the end of the festival projections but my gesture last night is to be condemned for its extremely explicit and offensive nature," he continued. "I would first like to apologize to all the people who felt offended by my gesture, to director Jennifer Kent to whom I wish a wonderful career and to the Venice Biennale."
He went on to claim that he didn't intend for the insult to be sexist, but understand that it was received as such, and further explained that he hoped his behavior wouldn't cast a shadow on the Italian film press as a whole.
Meghdoud's uncalled for remarks ultimately didn't overshadow the praise otherwise being lavished on the film.
"Filmmakers often face the challenge of big expectations on their second features, but Kent joins the ranks of sophomore filmmakers whose new movies expand on their debuts in startlingly ambitious ways," writes IndieWire's Michael Nordine. "She charts her own path in The Nightingale, a savage journey that might not have been worth the trip were its guide not so adept at navigating the darkness."