Diane Keaton is Aware The Babadook Stole Her Look
Diane Keaton has brought the "Gay Babaook" meme full circle and is totally in support of the fact she inspired his look.
---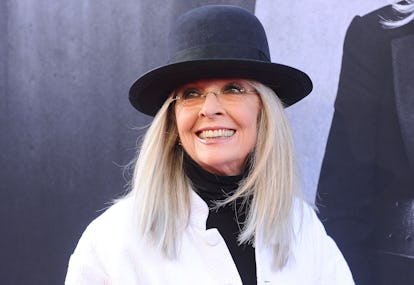 Jason LaVeris
Diane Keaton is a fashion icon and low-key Instagram power user, this we know.
The Babadook is a fiercely proud openly gay man and burgeoning LGBT icon, this we also know. Like many gay men, the Babadook appears to have a favorite iconic actress legend for who he will eternally stan for and pattern his look, if not entire life, after. For him, that seems to be Keaton.
And Keaton is aware of it and totally fine with the fact that he may have stolen her look. What a Pride Month miracle! (For any reader who has no idea what any of this means, we congratulate you on having an actual life and we'll fill you in later, but we cannot bury the lede here.)
Comedian and former The View co-host Michelle Collins recently posted a slideshow on Instagram highlighting the likeness of Keaton's trademark look of voluminous outfits in neutral colors and oversized hats to The Babadook's uniform. The similarities really are uncanny.
Though Keaton wasn't tagged, maybe Collins should @ her next time because she found it anyway, and as _Vulture_ points out, she approves of the comparison.
"Dook! Dook! Dook!" indeed.
Now, for those of you who need an explanation of this nonsense, please gather round. The Babadook is the titular character of Jennifer Kent's 2014 psychological horror movie. He is a monster character from a pop-up book that comes to life and torments the family, and, without giving away too much, is a symbol for something much deeper.
Fans and critics, however, at first seemed to have missed that The Babadook is also a symbol for the queer struggle for self-acceptance. Or at least the internet thinks he is.
It's a joke that has simmered in certain online circles for months, but has blown up in time for Pride month. People are even showing up to parades dressed at the Babadook.
Though, the real tongue-in-cheek humor stems from the fact that LGBT community far too often struggles to find themselves represented in the media and entertainment and have a long history of projecting themselves and their struggles and triumphs onto specific actresses, entertainers and iconic characters. See: Judy Garland, Sex and the City, and, perhaps the most relevant example, Bert and Ernie.
Though, it only makes sense then that if The Babadook is a a man who fearlessly and proudly loves other men that he too would have a favorite iconic actress who he thinks regularly represents him on screen and it only makes sense that it would be Diane Keaton.
So in this way Diane Keaton has brought the gay Babadook meme full circle.
Related: Meryl Streep Honored Diane Keaton with Her Best Diane Keaton Drag
How to Dress like Diane Keaton, the Queen of Borrowing from the Boys
Brie Larson is also a big Diane Keaton fan: