Ballerina Courtney Lavine Has Picked Up Beauty Secrets All Over the World
How the Sade look-alike and American Ballet Theater dancer, who stars in Chanel's new fine jewelry video, stays fit and refreshed on the go.
---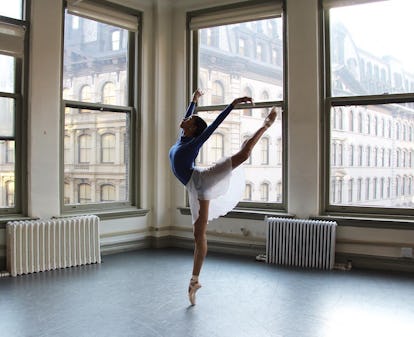 As a member of the American Ballet Theater's corps de ballet, dancer Courtney Lavine puts in her travel miles. The company tours around the world, making stops in China, Taiwan, Japan, Spain, Oman, and Australia — and that's just the countries Lavine could list when we caught up over the phone in mid-September. She had just wrapped up a run dancing Sleeping Beauty at the Opéra Bastille in Paris; with a couple days before she had to resume rehearsals for upcoming shows in New York and then California, she decided to stay behind in Paris (and from there, head over to Ibiza for a bit of a beach break).
But amid a full travel, training, and performance schedule, the 27-year-old stage vet also fits in a few side jobs; she moonlights as the face of Avon's new fragrance Prima, and she starred in Chanel's recent fine jewelry video alongside Ellie Bamber, Kilo Kish, Leandra Medine, and Taylor Patterson. In the video, Lavine, clad in a tutu and Chanel sweater, lists off ballet terms, stream-of-consciousness style, like "a dream, but you only remember bits and pieces of it," Lavine explained of director Charlotte Wales's concept. (Of course, Lavine dances a bit, too.)
Chanel is just one of a number of designers who are increasingly taking note of the ballet world. Iris Van Herpen, Karl Lagerfeld, and the Mulleavy sisters of Rodarte have all designed costumes for contemporary ballet companies like New York City Ballet and the Paris Opera Ballet; as far back as 1928 Coco Chanel herself designed for the Ballet Russes. Lavine, for her part, has embraced the fashion and beauty worlds in turn. As she's traveled the world and honed her stage look, she's picked up a few tips along the way — "When I travel, I always experiment with different beauty products," she explained. "Some of them stick with me and I use them all the time, and then some I just…" She trailed off. "You win some, you lose some." It's no wonder her backstage snaps have earned her nearly 32,000 Instagram followers. Here, she shares a few of her biggest wins for both stage and street.
Your look in three words: Natural, feminine, elegant.
Medicine cabinet snapshot: Olay Total Effects 7 in 1 Moisturizer, SK-II Essence and SK-II Cellumination Mask-in Lotion, Neutrogena Naturals Fresh Cleansing + Makeup Remover face wash.
A good hair day starts with: Good hair starts with what I put on it at night. I love coconut oil, argon oil, and anything Kerastase.
Makeup miracles: My Chanel mascara and RCMA foundation.
Nails must be: OPI Mademoiselle in my nails and OPI Red Hot Rio on my toes.
Sheet mask or mud mask: SK-II masks are amazing! I like to put one on while I'm taking a bath.
Bronze or blush: All MAC blushes and Nars blush in Orgasm.
Beauty from the inside out: I love fruit, probably more than I like sweets, I hear the antioxidants are good for your skin. Also, I find if I drink a lot of water my skin glows.
Exercise obsession: My Upper West Side Equinox and of course the ballet barre.
Dance training regimen: We have warm up ballet class at 10:15am every morning. Then we rehearse from 12pm to 7pm with an hour break for lunch. I also do Pilates on the weekends.
Ballet beauty secrets: Moisturize your whole body, not just your face. My dance partners say I have soft skin.
Drink of choice: Seltzer and fruit juices.
Product that you borrow from the boys: Razors, their razors are the best.
Product that you picked up from the pros: Rose water toner, RCMA makeup, Ben Nye Banana Powder.
A woman should smell like: Avon Prima of course!
Appointment you'd love to nab: I'd love a facial with Tracie Martyn.
Definite doppelgänger: People tell me I look like Sade. I love her music so I'll take it.
See W's most popular videos: