Behold, Balmain's Digital Front Row
Megan Thee Stallion, Anna Wintour, and Cara Delevingne were among the VIPs to "attend" via TV screen.
---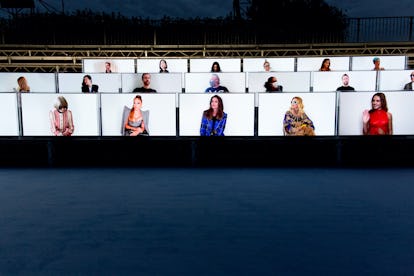 Courtesy of Balmain and LG
For the first time ever, all of the shows that make up this season's fashion weeks have been open to the public. In a digital sense, at least. And yet, whether it's as simple as sending select viewers Prada pastries and Fendi pasta, brands have found ways to preserve fashion's usual hierarchy nonetheless. Like others who've shown in Milan and Paris, Olivier Rouesting invited IRL VIPs to Wednesday night's Balmain show in Paris. But even some of the virtual VIPs got special treatment: Fifty-eight of them were seated front row, via glaringly bright LG screens. Suffice it to say, aside from the newly revived PB print, the house's 75th anniversary show looked nothing like those of Pierre Balmain's heyday.
Jennifer Lopez, Anna Wintour, Megan Thee Stallion, and Kris Jenner filled out the "front row," along with the models Cara Delevingne, Alessandro Ambrosio, Natalia Vodianova, and Milla Jovovich. The editors Laura Brown and Derek Blasberg and the critics Lynn Yaeger and Luke Leitch were relegated to the second tier. The latter didn't take too kindly to his placement, in a tongue in cheek way, in his review: "They'd placed me second row," Leitch wrote in his Vogue review. "I threatened to walk out—the New York Times's reviewer was front row, what was Vogue Runway, chicken soup?—and how could I see the shoes through Cindy Crawford's hair?" At least he wasn't in the third row; more than the half of those demoted to the back were obscured.
Fittingly enough, the celebrities' arrival to the show's second portion was accompanied by The Weeknd's "Blinding Lights." The screens were bright enough against the backdrop of the dark, stormy sky that it was easy to forget the stands were also filled with real people—so filled, in fact, that there was little to no room to social distance. Many wore masks, but others, like the model and IRL front-rower Jon Kortajarena, did not.
Of course, you didn't have to be virtually or physically present to take in the collection's shopping 103 looks. Rousteing arranged for the show to be streamed not just on Balmain's website, but also on YouTube, Instagram, Facebook, TikTok, and even LinkedIn.
Related: Jeremy Scott's Moschino Presentation Was an Haute Couture Puppet Show