People Are Confusing Banksy's New NYC Mural For One of Selena Gomez
This time, it's not just politics that's making the notoriously mysterious street artist's work cause a stir.
---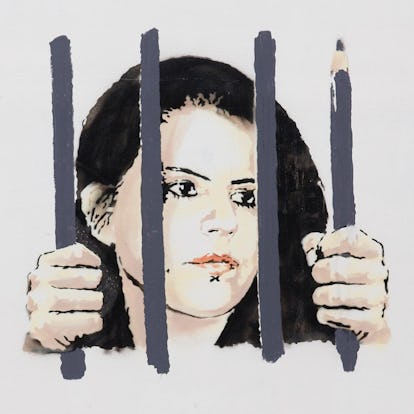 Courtesy of @banksy
The ever-elusive street artist Banksy has officially returned to New York, confirming that he was indeed behind a mural of a suited man chasing down a harried group of stooped figures that appeared on a wall on Coney Island Avenue in Midwood, Brooklyn. Many had suspected Banksy not only because the work features several of his signatures—silhouetted figures and a bold political message—but also because it's clear the artist (or at least a team of his collaborators) is in town. Just last week, for example, he confirmed that he'd added an image of a rat to the clock face of a bank on 14th Street in Manhattan that's set to be demolished.
Though that work is tiny in comparison to his other recent New York installation: a giant, 70-foot-long mural unveiled last Thursday, covering a good portion of a block on Houston Street near the Bowery with a swath of white, accented by nearly 300 tally marks and the slogan "FREE ZEHRA " beneath text that reads, "SENTENCED TO 2 YEARS NINE MONTHS AGO AND 22 DAYS IN JAIL FOR PAINTING THIS PICTURE." At this point, though, passersby and onlookers from social media are starting to get confused: Though the mural seems to fit in with Banksy's usual work, its up-close view of a woman imprisoned behind the bars of several of the tally marks bears an undeniable resemblance to Selena Gomez.
Indeed, given the recent rumors about Gomez's break with her longtime on-again, off-again flame, one Twitter user declared the work to be a depiction of "Selena Gomez trapped behind the bars of fame and her inexplicably recurring devotion to Justin Bieber." Unintentionally, though, the Gomez likeness does serve to introduce her fans to an issue they may not have otherwise been confronted with. The woman in question's name actually appears on the mural: Zehra Doğan, a Turkish-Kurdish artist and journalist who was sentenced to prison last March for painting a watercolor depiction of a photograph capturing the predominantly Kurdish city Nusaybin, which was destroyed in fighting between the Kurdish militants and the Turkish army. Doğan painted the scene with unmissable, bright red Turkish flags flying above the wreckage.
Though the photograph was first published in the newspaper, Doğan was the one who took the blame—perhaps because she dared to tag Turkey's president, Recep Tayyip Erdogan. Her sentence is far from over; if Banksy or others don't succeed in lobbying her case, she has 18 months left of imprisonment. (Both the watercolor and original post can be seen in another Instagram of Banksy's below.)
The precise number of days Doğan had passed in prison at the time the mural went up can also be found in the work itself, represented in the tally marks that of course bear a resemblance to prison bars. (Though upon closer inspection, the bar that Doğan grasps in her left hand is in fact a pencil.) Doğan is as of now reportedly unaware of the existence of the mural, which Banksy worked on with the mysterious graffiti artist Borf, who previously spent a month in jail for his own work. As for Gomez, there's no word yet on whether she's aware of her imprisoned doppelgänger—or, at least, sometimes doppelgänger, as Doğan looks strikingly similar to Gomez in the portrait that Banksy recreated, but not so much in other photos.
In any case, if Doğan's situation does come to her attention, here's hoping Gomez pulls a Kim Kardashian in hiring an ace lawyer in an effort to free one of the many who are unrightfully imprisoned. Indeed, one never knows with someone so playful and mysterious as Banksy: the Selena Gomez resemblance may have been his goal in the first place. After all, it certainly didn't escape his attention when Bieber got a sizable tattoo of one of his works back in 2014.
Related: Kim Kardashian Hired an Ace Lawyer to Free Cyntoia Brown and Alice Johnson