Celebrities Take to Social Media to Wish Barack Obama a Happy Birthday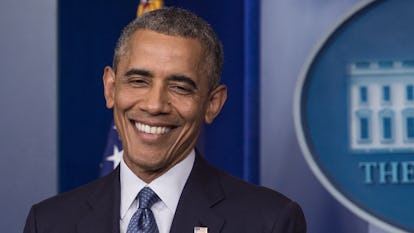 Nicholas Kamm/AFP/Getty Images
Today is 44th President Barack Obama's 56th birthday, and in honor of what the internet has termed #ObamaDay, celebs of both the "Hollywood" and "Washington" persuasions have taken to Twitter and Instagram to send their well wishes.
Fifty-five was a pretty whirlwind year for the former president: After departing the White House in January, Obama has spent the last six months on a world tour, doing everything from whitewater rafting in Bali and exploring Italy to kite surfing on Richard Branson's private island.
And, of course, there are plenty of people who want to celebrate with him. "Another year older, but still the same phenomenal guy I married nearly 25 years ago," wrote wife Michelle Obama, accompanied by an throwback photo of the couple blowing out birthday candles with pint-size daughters Sasha and Malia in 2004.
True to form, former Vice President Joe Biden took the opportunity to show the world that he and Obama's bromance is alive and well post–White House. "Your service has been a great gift to the country, and your friendship and brotherhood are a great gift to me. Happy birthday, @BarackObama," he tweeted.
Celebrities also chimed in with some B-day love. "Happy birthday to the flyest to ever do it??✊?," wrote Zendaya. "Happy bday @BarackObama. Don't know if you've heard, but things have been pretty shaky lately. We miss you guys," shared Elizabeth Banks. The award for most original birthday tweet goes to RuPaul, who shared a photo of the prez dressed as Star Trek's Dr. Spock along with the phrase "Live Long & Prosper."
Thousands of non-celebrities have also tweeted out birthday messages wishing Barack Obama well on his big day. The general sentiment? "We love you and we miss you."
[#twitter:https://twitter.com/robinthede/status/893454241918005248]
Related: How to Jet Set Like Barack Obama
See What's Trending on W Video: