Barack Obama Reveals the Secret to His "Dad Moves" in David Letterman Show Teaser
In a trailer for his interview with David Letterman on Netflix's My Next Guest Needs No Introduction, Barack Obama breaks down the science behind his dad moves.
---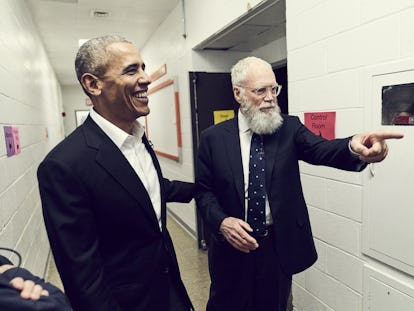 Joe Pugliese/Netflix
Last week, it was revealed that Barack Obama would be stepping back into the talk show circuit, at least to visit David Letterman for his upcoming Netlix series My Next Guest Needs No Introduction with David Letterman. Now, we have a sneak peek at what that will look like. Today brings the first sneak peek of the show, which debuts January 12, and it involves an anecdote centered around Prince.
Back in 2015, one year before the icon's untimely death, the Purple One — along with Stevie Wonder — played a "private party for friends and family" of the Obamas, according to Rolling Stone, the details of which are still mostly unknown. Former press secretary Josh Earnest called it a "a non-public event that occurred at the White House" at the time and told the publication that "given the private nature of the event, I don't have a lot of details to discuss from here." Two and a half years later, though, Obama is revealing what did happen at the private concert.
Naturally, dancing was involved. "This was probably three or four months before he died and Prince asked Sasha to come up and dance—and she's an excellent dancer," Obama tells Letterman. " "Then Sasha pulls me up, which surprises me because she always mocks my dancing but I have dad moves."
Obama then broke down the science of his "dad moves," explaining, "I think the key is what we call, 'Staying in the pocket.' You gotta stay in the pocket because, I think everybody here knows dads who get out of the pocket, and they're trying stuff that they can't really pull off and they start doing like, karate kicks and all kinds of stuff."
Outside of "dad moves" it's unknown what else the former president will address with Letterman, however, it wouldn't be surprising if Obama elaborated on he and Michelle's relationship with Sasha and Malia throughout the presidency, as the former first lady did in November. "Barack and I, we thought about with Malia and Sasha, OK, we could've spent eight years feeling sorry for them that they were living in a bubble that every misstep for them would be on YouTube, that their privacy, they didn't have access to their father in a way," Michelle Obama said at the Obama Foundation summit in Chicago. "We could've felt bad for them, and there would've been a truth there. But our view was this is their life, and we can't apologize for the life they have because a whole lot of it is good."