Barack Obama Isn't A Big Fan of His New Bedroom
Being a former POTUS doesn't guarantee getting the best room in the house.
---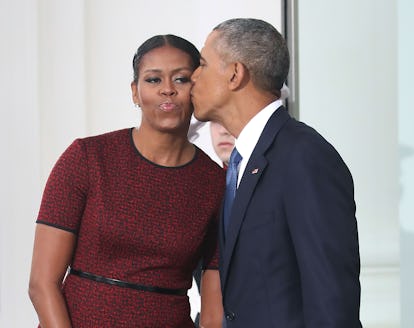 Mark Wilson/Getty Images
In her first television interview since leaving the White House, Michelle Obama teased her husband about their new digs down the street. On The Ellen DeGeneres Show, when asked by Ellen DeGeneres if Barack Obama got the best room in their new house, the former First Lady revealed that her husband is actually not too ecstatic about his bedroom in their home.
On the other hand, their daughter Sasha Obama leveled up, and was truly blessed with some prime real estate—a "decked out" two-room suite in the family's new home. Having both a living room and a bedroom in a suite at the age of 16, she really did get a better deal than her dad. "He got so shortchanged on this whole deal. He doesn't have enough closet space! He's got the smallest room for his office," Michelle Obama told DeGeneres. Hopefully, they have at least splurged on a backyard basketball court for the former president, in an attempt to make up for the fact that he doesn't have enough office space.
The former President and First Lady did once live in a modest home in Chicago, so they don't find it too awkward to return to living in a regular house after staying in the White House for eight years—a space where Michelle says the family poured "our value and our love for each other" into the essence of the home—but there are two members of the family who haven't quite latched onto the idea of living a normal lifestyle just yet. The Obamas' dogs, Sunny and Bo, apparently have had a bit of a rough time getting used to the new doorbell because in the White House, they never heard a doorbell ring when visitors arrived. "People actually trip out when I come to my door and I open it," Obama said to DeGeneres.
The Obamas plan to stay in Washington, D.C. until their youngest daughter Sasha heads off to college (she is currently a junior in high school), but while their oldest daughter Malia is studying at Harvard, they are wasting no space in the new home. Their mom teased that Malia will get a room in the attic because "you don't waste room on college kids" when you no longer live in the White House. Besides, Malia has a boyfriend to hang out with in New York City instead of spending her college breaks sulking at home.
Related: Michelle Obama Thought Melania Trump's Inauguration Gift Was Awkward, Too