Barack Obama Told Prince Harry He Prefers Suits Over The Good Wife
Prince Harry sat down to interview Barack Obama while guest editing the BBC Radio 4 program.
---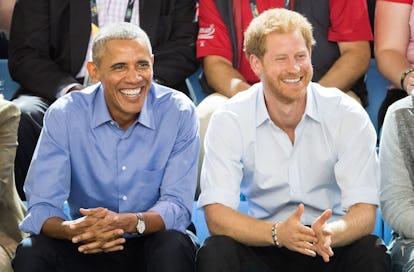 Samir Hussein, Getty
In September, during the Toronto Invictus Games, Prince Harry sat down to interview former President Barack Obama, in a guest-editing session of BBC Radio 4's "Today" radio program. The interview touched upon serious inquiries from Prince Harry, like asking the former president about life after leaving the White House, Donald Trump's chokehold on social media and the potential to work on various philanthropic campaigns together in the future. The royal cut the interview into a podcast, which became available for streaming from the BBC today.
In lighter news, though, was a rapid fire exchange during the interview, when Prince Harry asked Barack Obama a slew of unrelated "this or that" questions about what the former POTUS misses the most about the White House, his favorite television shows and whether he wears boxers or briefs.
Since the engagement between Prince Harry and Meghan Markle was not announced until November and the interview was recorded in September, the royal wedding was not a topic of discussion, but Prince Harry managed to sneak one Markle related question into the lightning round. "Suits or The Good Wife?" Prince Harry quizzed Obama, to which Obama replied, "Suits, obviously," most likely in an effort to stay in Prince Harry's good graces while discussing the television series that gave his fiancée Meghan Markle her big break.
Neither Prince Harry nor Meghan Markle have compiled the guest list for the wedding, which will take place in May 2018, but maybe Obama's Suits-affirmative answer might score him and his family an invitation.
Other questions included "Cigarettes or gum?" (Obama used to smoke, but now it's all about the gum) and "LeBron James or Michael Jordan?" (he's a Chicago guy, of course he's going to pick the Chicago Bulls' Michael Jordan). One question Obama refused to answer was the "boxers or briefs" inquiry. "Sorry, we don't answer those questions!" The final question from Prince Harry, however, did get a response.
With his last five dollars, would Obama buy a lottery ticket or a burger? "It depends on how good the burger it is, but I like a good burger," he told Prince Harry.
Related: This Stunning Christmas Photo of the Royals Was Taken On an iPhone
The Evolution of Meghan Markle's Style Through The Years