Behind Barbara Berger's Costume Jewelry
A new exhibition at the Museum of Art and Design highlights her extraordinary collection
---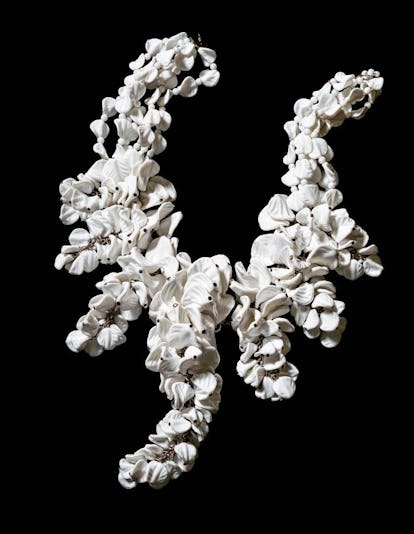 Tuesday evening, Gabrielle Fialkoff, CEO of Haskell Jewels; David McFadden, chief curator of New York's Museum of Art and Design; and Barbara Berger hosted a cocktail party for Fashion Jewelry: The Collection of Barbara Berger, a new exhibition sponsored by famed costume jewelry brand Miriam Haskell. The show features more than 450 standouts from Berger's 4,000-piece archive—everything from vintage Christian Dior, Kenneth Jay Lane and Marcel Boucher to contemporary designs by Billy Boy and Dolce & Gabbana. (An accompanying book from Assouline has just been released). When you could peel your eyes from the confections on display, it was hard not to be swept up by Berger's enthusiasm. Born in New York in 1942, the daughter of a diamond merchant, she bought her first pair of Chanel earrings at a Paris flea market when she was 13. Things have clearly spiraled since then. Berger, who is now based in Mexico City with her husband, Mauricio, filled us in on her favorites.
How did you decide which of your 4,000 pieces to include? It wasn't easy. I wanted it to be a little bit for everybody's taste and I wanted viewers to be able to learn something from the show. The vintage speaks for itself but, in terms of contemporary, Billy Boy is fabulous and also this Belgian artist named Daniel von Weinberger, who is Hasidic and a professor at a university in Antwerp. The work is, forget it! You think it's made by a lunatic—it's spectacular.
What are you wearing tonight? A beautiful bracelet by Iradj Moini and that's it. I should wear more, but I collect the pieces, I don't cover myself in them. I'm very discreet.
Have you worn every piece in this room? No, it would take another 150 years to wear my whole collection. Everything I've bought I would love to wear, but it's more about passion and history for me. It's not that I wake up in the morning and go look at my jewelry. My husband is a very famous jewelry designer who designs fine jewelry in Mexico. So it's exciting because we really come together with this passion.
And your father was also in the diamond business? Yes, and one of my sons is also a diamond dealer, so it's in my blood.
Why do you think you ended up collecting costume jewelry instead of fine? Because I could afford it! And you can't make real jewelry like fashion jewelry. You can't do the fantasy. What the collection is very focused on is whimsy—the fun, the amusement, the size. I like anything that has a really strong impact. I really love JAR and I love Victoire de Castellane, of course. But you can't collect JAR unless you really have all the money in the world.
What's your favorite of everything here? I love the swan hatpins by Schiaparelli. They're really extraordinary—delicate and in perfect condition. I'm very flaky, but I remember exactly where I bought everything. I may not remember the price. I've been collecting for 57 years…
Your first piece was a pair of Chanel earrings when you were 13, right? I got them in Paris. I don't have them anymore but my best friend found me almost the same pair, so we both have them now.