Barbra Streisand Unearthed a Creepy Doll That Actually Represents a Piece of Musical Duet History
The antique freckle-faced doll Céline Dion gave Barbra Streisand years ago represents a piece of '90s pop duet history.
---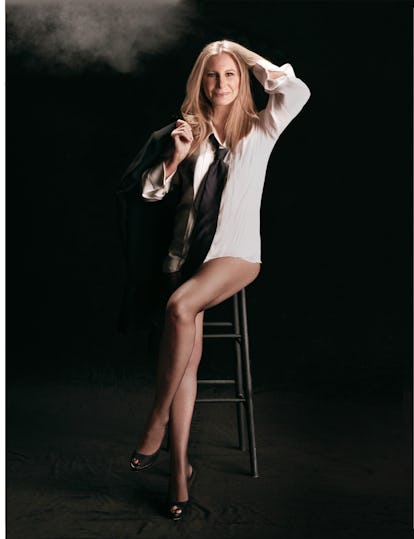 Steven Meisel
If you've found yourself spending a lot of time excavating forgotten knickknacks, unused stuff, and unworn clothes from your closet or basement lately, you wouldn't be alone.
That must be exactly what Barbra Streisand—whose basement of legendary proportions is known to house such trinkets (see: Buyer & Cellar, the one-man play based on Streisand's vault constructed like a shopping center in her Malibu home)—has been doing while she's quarantined with her husband James Brolin.
"@CelineDion gave me this doll years ago before we did our duet together ❤️" she wrote on an Instagram Story photo of a doll seated in a wooden high chair, which was apparently given to her by Céline Dion over two decades ago.
It is worth noting that the duet in question is "Tell Him," a '90s pop ballad about Dion being scared to tell a man she's in love, and Streisand telling her she has to let him know.
The story goes that Dion performed twice at the 1997 Academy Awards (the first artist to ever do so on the same night at the ceremony), and Streisand was so struck by the performances she sent a note to the singer praising her for her vocals and requesting that they do a duet next time. So, the two eventually recorded "Tell Him," and each released the song as the debut single from their albums Higher Ground and Let's Talk About Love. It was the first time they recorded anything together, and they received a Grammy nomination the following year.
It would appear, though, that there has been a missing piece of that story until now. According to Streisand's Instagram Story, Dion must have sent Streisand a gift in response to her note: an antique doll with reddish messy hair and a freckled face. Whether or not this doll is a key player in the Annabelle films from The Conjuring universe, remains to be seen, but it definitely represents a piece of '90s pop duet history.
Related: Tiffany Haddish Got a "Black Mitzvah" Gift From Barbra Streisand