After Annabel's
London's newest private club, the Beauchamp, makes a play for the hearts—and minds—of the city's elite.
---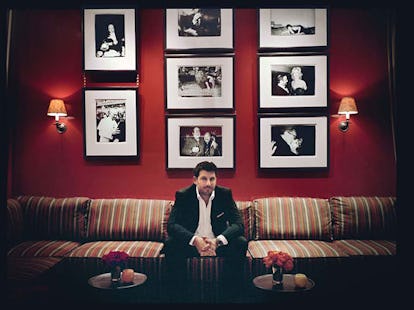 London's Beauchamp Place, the Knightsbridge street that's home to a Pizza Express and to Bruce Oldfield's couture salon for society ladies, hasn't been a locus of cool for at least a decade. But over the past few months a clutch of big names, including Lord Rothschild, Ginevra Elkann, Arpad "Arki" Busson, Pia Getty, Alejandro Santo Domingo, Marc Rich, Zaha Hadid and Peggy Rockefeller Dulany, has quietly been converging on number 30, a 19th-century town house with an anonymous black awning, opaque windows and a shiny brass doorbell. They've all been taking part in an alternative London experience: dining on a mix of Italian and Persian food, discussing cultural attitudes toward philanthropy or the latest play at the Royal Court Theatre, and assembling around the fireplace upstairs to listen to live performances by flamenco guitarists or by Indian musicians on the dilruba and the tabla.
The folks who once flitted among the alcoves of Annabel's and hosted cozy lunches and dinners at Harry's Bar are moving on and opting for low-key, cerebral gatherings at the new Beauchamp Club. The brainchild of Farhad Farman-Farmaian, who has been organizing a series of test-run evenings for his 90 founding members, it is scheduled to open in February to all members. "There's nothing like it in London," says Maya Schönburg, one of the group. "The dining room feels like a restaurant carriage on the Orient-Express: You'll be sitting at dinner, and you turn your chair around and start talking to the people behind you. It's like boarding school!" For Rolf Sachs, the Beauchamp is in a whole different universe than Annabel's. "It's a much more private affair. It's homey and tiny—and that's one of its charms," says the designer, socialite and serial clubber, whose memberships range from the old-English-establishment White's in London to the feisty Dracula in Saint Moritz.
Farman-Farmaian, an exuberant 36-year-old who comes from a prominent Persian family and who majored in visual arts and filmmaking at Brown University, modeled the five-story club on the salons of 17th-century Paris. His aim: to create a stimulating environment—with lectures, performances and exhibitions—for his brainy, cosmopolitan friends. "I want them to come here and discover a ceramist, a landscape architect, a new writer," he says over a vodka-and-pomegranate cocktail mixed at the dining room's small mahogany bar.
In other words, flashy champagne-spraying types need not apply. "Money is no longer a currency; culture and taste are the new currency," says Farman-Farmaian, who opened the club with funds from founding members. One member puts it another way: "You're not getting the Botoxed, collagen-lipped set here." Paintings and drawings by the first artist-in-residence, Alexander Sandy White, are displayed on one of the club's upper floors, and in October members were treated to dinner and Persian music at London's temporary Museum of Everything, which showcases work by noncommercial artists. Farman-Farmaian has even begun publishing The Beauchamp Journal, a quarterly that features original writing and criticism by members.
The pains he has taken to create a warm atmosphere are obvious. In the long, narrow dining room, which seats 80, the decor is a mix of vintage ikat and antique Persian textiles, Jacobean oak and mahogany. "I wanted it to feel like a travelers' lodge, an explorers' den, a resting spot on the Silk Road," he says. The walls are filled with loans from founders: black and white Warhol portraits of Liza Minnelli and Jackie O, photographs by Nan Goldin and Hiroshi Sugimoto, and vintage shots of alpine sporting events, courtesy of Sachs. The menu, Farman-Farmaian says, is "Italian and Persian comfort food." His Piedmontese chef—who came from the kitchen at Harry's Bar—cooks up such dishes as buffalo steak, zucchini pasta (from Elkann's recipe), and pomegranate and dried fig salad.
Before launching the Beauchamp, Farman-­Farmaian was a creative consultant whose clients included Chateau Marmont, the Waverly Inn and Annabel's, where he worked alongside proprietor Mark Birley's children, Robin and India Jane, to inject new life into the club. Shortly before his death, in 2007, Birley sold Annabel's—along with Harry's Bar and two other private eating clubs, George and Mark's—in a move that created a black hole in London's club scene. Many of Birley's old-time staffers have fled to rival venues; Robin is setting up his own members' club, while India Jane, along with other former Annabel's pillars such as Nina Campbell, has become a founder of the Beauchamp, which will have a maximum of 500 members. Campbell, who is moving her interior design studio to a nearby street, says she plans to spend a lot of time at the new venue.
"The crowd is very young and very international," muses the designer, who created interiors for Annabel's when it opened in the Sixties. "I really hope I don't look like mutton dressed as lamb."