Beck's Son Cosimo Henri Hansen Is Unsurprisingly A Style Scion
It's surprising that the ever-private Beck brought his son to the Grammys, but what's not surprising is that he's a style scion.
---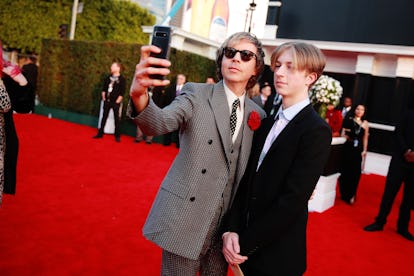 History was made last night at the 2020 Grammys—celebrities arrived in a somber mood, Lana Del Rey showed up wearing a gown she bought at the mall (and with her "hot cop" boyfriend by her side), Billie Eilish became the first woman to win the big four categories (Album of the Year, Song of the Year, Record of the Year, and Best New Artist), Usher and FKA Twigs paid tribute to Prince, and Nipsey Hussle's life was honored by his friends and collaborators.
But before the show, there was one other carpet moment that cannot go unrecognized—Beck, who won two Grammy awards last year, arrived to the scene with his son Cosimo Henri Hansen.
Hansen, who is 15 years old, appeared alongside his father in a black blazer, baby pink snake-printed shirt, and heeled horse bit loafers. (His father wore Celine.)
It might seem surprising that Beck, who is typically quite private about his personal life (it wasn't until late last year that he denied his involvement with Scientology, 15 years after he once declared he was a Scientologist), would bring one of his children to a major awards ceremony in Los Angeles. But last year, his 12-year-old daughter Tuesday Hansen accompanied him on the red carpet.
When you think about it, it makes sense that Hansen would turn out looking like he could be an up-and-comer in the fashion world. After all, his dad was a front row fixture at Gucci's Milan Fashion Week show last September, and his mom, Marissa Ribisi, launched a fashion label called Whitley Kros, in 2008. Hansen even walked the runway with his mother and her label's co-founder Sophia Coloma during the brand's Los Angeles debut.
At this rate, as is often the case with celebrity scions who appear to have an eye for style, it'll only be a matter of time before someone like Alessandro Michele casts Hansen in his next campaign, or puts him on the runway again.
Related: Thanks to Lizzo and Lil Nas X, Versace Won the Grammy Red Carpet Once Again