Behati Prinsloo Gets Ready for the Victoria's Secret Fashion Show
The Angel opens up about having to work out every day, the weight of wings, and her boho-chic ensemble for her 9th Victoria's Secret Fashion Show.
---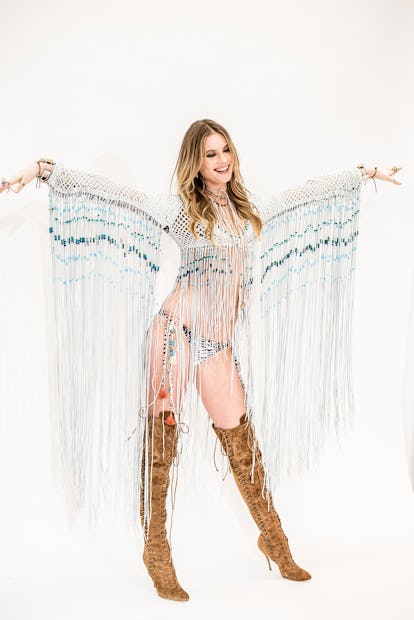 "My least favorite part is just having to work out every day!" Behati Prinsloo says, keeping things very real at her 2015 Victoria's Secret Fashion Show fitting. (Victoria's Secret Angels—they're just like us!) "It's like, 'Oh, I'm in lingerie, right!'" But anyone who follows the Angel on Instagram knows how excited she gets, in spite of the physical demands. For the past week, the model has been posting throwbacks to past VS Fashion Shows, and counting down the days until the next—not to mention a photo of her wisdom tooth turned into a funky gold necklace that made the quirky beauty's following go wild.
"This is my 9th show. Almost 10 years, what are we gonna do for my 10 year anniversary?" she asks the room, prompting questions of when her last show will be. "Never! I'm never leaving! I don't know, hopefully not soon, but we'll see," she says, toying with the long leather fringe pieces that make up one of her three looks for this year's show.
"It's always fun to have something to play with," she adds. "The wings are amazing as well. They're heavier, you have to walk a little different, you can't walk as fast. Like, the ones I'm wearing in the show are heavier than I've worn ever, so it's a little scary. I'm definitely going to have to do some more leg workouts to carry that thing!"
Prinsloo cites last year's gold wings and her very first show outfit (a campfire-inspired tent hoodie) as two of her favorite looks, but promises the Angels aren't allowed to take costumes home as souvenirs. "There's always shoes we want to keep or the wings, but they're such iconic pieces, we can never keep them," she says. "But you can buy most of the lingerie that's underneath them anyway so we kind of do that." Just like us, indeed.
Behind the Scenes with Behati Prinsloo
"This is my 9th show. What are we gonna do for my 10 year anniversary? It's next year. Tick, tick, tick."

Photographer: Teddy Wolff
"It's boho psychedelic—what don't you like about this look?"

Photographer: Teddy Wolff
Behati Prinsloo at the 2015 Victoria's Secret Fashion Show fitting.

Photographer: Teddy Wolff
"I'm definitely gonna play with the fringe. I think it gives a more dramatic feeling and you kind of see the handiwork that goes into it."

Photographer: Teddy Wolff
Behati Prinsloo at the 2015 Victoria's Secret Fashion Show fitting.

Photographer: Teddy Wolff
"It's always fun when a costume feels like it's a part of you and you know, as you move, it moves."

Photographer: Teddy Wolff
"My favorite look I've ever worn was probably the one I opened with last year, the gold one. Or a big white one I wore one year that was so fun."

Photographer: Teddy Wolff
"I'm most looking forward to seeing The Weeknd perform."

Photographer: Teddy Wolff
Behati Prinsloo at the 2015 Victoria's Secret Fashion Show fitting.

Photographer: Teddy Wolff
"There's always shoes we want to keep or the wings, but they're such iconic pieces we can never keep them."

Photographer: Teddy Wolff
"I think my favorite part is when we are all hair and makeup done and have those moments with the girls, we can all hang out and get excited."

Photographer: Teddy Wolff
Behati Prinsloo at the 2015 Victoria's Secret Fashion Show fitting.

Photographer: Teddy Wolff