Beirut Babylon
Prosperity and partying, not politics, are the hallmarks of the Mideast's most cosmopolitan capital, where Iran's Mahmoud Ahmadinejad mixes with rapper 50 Cent and the economy is dancing as fast as it can. Christopher Bagley gets into the groove.
---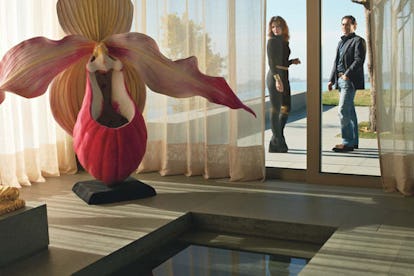 It's surprising how much you can learn about Middle Eastern politics while cruising along the Beirut shoreline in a Riva Ego yacht, sipping champagne with an exuberant blond wearing only a string bikini and a gold Rolex. Randa Missir, a Lebanese fashion retailer who owns the boat with her husband, Claude, an interior designer, has invited a group of friends for lunch at a seaside restaurant north of Byblos, and the conversation en route touches upon the fragility of Lebanon's coalition government and the finer points of Hezbollah's links with Syria and Iran. It's all related to Missir's explanation of why she and her friends like to go out every single night. "No matter what's happening in Beirut—good or bad—people always find a way to make it social," says Missir, 39. She recalls that during one particularly brutal stretch of Lebanon's 15-year civil war, when militias fought turf wars in the hills surrounding the city, "we would just move from mountain to mountain. There would always be a party at someone's house, on whichever mountain had no bombs."
The live-for-the-moment, dance-among-the-explosions cliché is one that has stuck to Beirut for years, and anyone who visits today quickly learns two things—that the image holds largely true and that it doesn't begin to hint at the city's mesmerizing complexity. When I arrive in my room at the sleek Le Gray hotel downtown and take my first look out the fourth-floor window, this is what I see: two mosques; a Maronite church; a military jeep packed with armed soldiers; some excavated Phoenician and Roman ruins; three women in head scarves climbing out of a Range Rover; a pedestrian shopping district, with outposts of Ladurée and Miss Sixty; and a German battleship docked in the azure Mediterranean waters. All that's missing, it seems, is Iranian president Mahmoud Ahmadinejad and rapper 50 Cent—both of whom will in fact pass through the neighborhood later in the week.
Locals will tell you that it's impossible to sum up their city—a chaotic, sexy, shape-shifting metropolis whose population of one million (or perhaps two million; nobody knows for sure) is the most ethnically diverse in the Middle East. "The number of ways in which Beirut is perceived and experienced is infinite," says Haig Papazian, an architect and violinist who cofounded Mashrou' Leila, Lebanon's young rock band of the moment. But if there's a way to get a handle on the place, it's by making the rounds with its artists, moguls, social figures, and other key players, as I did on a recent visit. Despite their differences, these characters tend to share telltale traits, including fluency in at least three languages and a high tolerance for blackouts and water shortages. And they all inhabit their own version of what they call "the real Beirut," which they're generally happy to show off.
One insider who has watched Beirut rise and fall more times than she'd care to remember is Lady Cochrane (née Yvonne Sursock), an 88-year-old grande dame who grew up in, and still inhabits, the city's most splendid private mansion, Palais Sursock, located on rue Sursock, in the Sursock section of town. A descendant of Lebanese and Italian aristocrats who has been crusading for stricter historic preservation laws since the early Sixties, Lady Cochrane is aware of all the chatter about Beirut's latest go-go renaissance, which dates from the end of the 2006 war with Israel. However, the buzz she's most concerned with is coming from the construction saws on nearby lots where several new apartment towers are rising high enough to overshadow the jacaranda trees in her verdant garden. (In a perverse twist, developers have managed to name the largest new complex Sursock Tower, owing to its address.) "The old Beirut has disappeared," she says in an accent that combines the clipped vowels of Sloane Square with the guttural r's of the Levant. "It was one of the most beautiful towns on the Mediterranean. Everyone had a garden; even the poorest people had a little bit of green. Now look around."
As Lady Cochrane gives me a tour of the Flemish tapestries and Italian Baroque paintings that survived the roughly 50 mortar explosions her house sustained during the civil war in the Seventies and Eighties, it becomes clearer why she is staying put, despite her conviction that the town is turning into "one enormous slum." She's hoping to change the city's planning system, which often favors developers and government cronies over residents, while also trying to block new limestone quarries that are damaging the environment. "One must try to stop these things, even if one doesn't succeed," she says.
A few blocks down the hill from Palais Sursock, in the artsy enclaves of Mar Mikhael and Gemmayze, a noticeably brighter view of Beirut's prospects holds sway. Among the city's young creative types there are signs that Lebanon's decades-old brain drain, which began during the civil war and never really stopped, is finally reversing itself. "There's so much happening here now culturally, it's like a playground," Papazian, a bearded 23-year-old, says over dinner at the hipster-friendly dive Le Chef. Last summer he turned down a job in Paris to stay and record a second album with his six bandmates. Mashrou' Leila—whose members are design students and recent graduates with varied Muslim and Christian backgrounds—started out as an underground curiosity but quickly earned raves for its fresh alt-rock sound and provocative, darkly humorous lyrics, written in Arabic and laced with Lebanese slang. One song is a man-to-man romantic ballad; another twists a "tick, tick, tick" lyric from a children's tune into a brooding meditation on life during wartime. On the night I stop by a practice session in a shabby basement studio, the musicians are bantering in Arabic, English, and French; lead singer Hamed Sinno mentions that he's pleased to hear that one of their songs has become a bootleg hit in Ramallah. But he wryly notes that their crossover potential may be limited among some conservative Arab populations, where having a female keyboardist is a big no-no. "People get sensitive about these things," he says.
For now Beirut remains the regional capital of East-West cross- pollination, and one entrepreneur who's betting big on the synergy is Tony Salamé, owner of the high-end retail emporium Aïshti. Between his gleaming department store and the luxury tenants he has lured to Beirut's downtown pedestrian area (Burberry, Dior, and Yves Saint Laurent have all moved in during the past six months), Salamé is securing a near monopoly on the sweet spot where European taste meets Middle Eastern money. Showing me blueprints of the downtown district, where he has commissioned Zaha Hadid to design Aïshti's new flagship, he says, "I've taken all the strategic corners, like in a war." One bombed-out building may eventually become an exhibition space for Salamé's fast-growing contemporary art collection, and in the meantime he's been loaning artworks to shops around town: That's his Tracey Emin behind the cash register at the Chloé store.
Salamé, 44, got his start selling jeans, and later had the idea of branding the shamagh, the traditional men's head scarf, through licensing deals with labels such as Valentino and Gianfranco Ferré, which he then sold at big markups to sheikhs and emirs. Several of those Gulf royals are now Salamé's neighbors in the mountain hamlet of Faqra, where he and his wife, Elhan, an effervescent beauty who is Aïshti's chief buyer, spend weekends. Their glass and cedar house, with its infinity pool and impressive assortment of Urs Fischers, Kristin Bakers, and Anselm Reyles, could be mistaken for a little corner of Bel-Air were it not for the camouflaged army troops patrolling the nearby hills.
When I join the Salamés and their friends for dinner one night at the glossy restaurant Centrale, near Gemmayze, it's easy to see why the city's upscale boutiques are able to move so much merchandise. Packing the tables among the patio's jasmine trees are groups of tanned 40-ish men smoking cigars and wearing major Patek Philippe watches, while their yoga-toned, meticulously groomed wives compliment one another on their Lanvin necklaces. Beirut's pampered ladies, long known as the Middle East's chicest, if showiest, fashion addicts, still have a certain recognizable style, which Salamé sums up this way: "The Lebanese woman will buy the same designer item as a European woman, but she'll wear it in a sexier way. And she'll wear it at lunchtime."
The Lebanese woman also has a growing appetite for Rabih Kayrouz, one of several designers muscling in on local kingpin Elie Saab, who still has a lock on the Middle Eastern market for $300,000 couture wedding dresses. A onetime intern in the ateliers of Chanel and Dior, Kayrouz recently opened a showroom on Paris's boulevard Raspail, and embraces a bling-free aesthetic that he diplomatically calls "a bit more modern" than Saab's. We meet for lunch at Tawlet, the preferred canteen of Beirut's organically inclined denizens in Mar Mikhael. Scattered among auto repair shops are other new outlets of understated grooviness, such as the art- design bookshop Papercup and the showroom of architect Karim Bekdache, who moonlights as a dealer in midcentury furniture. "In Beirut these things happen fast—as soon as one new place opens, five more are suddenly there," Bekdache says. "Nobody knows if things will be okay in a year, so you move in, make some money quickly, and wait for the next war."
On the eastern side of town is another gritty boho enclave, Hamra, where artists and filmmakers are settling in among the universities, falafel shops, and bars of ill repute. If Beirut's contemporary art scene hasn't yet generated the hype of Abu Dhabi's or Tel Aviv's, the city's desperately creaky infrastructure might be partly to blame: I'm sipping Turkish coffee with leading dealer Saleh Barakat at Agial, his Hamra gallery, when everything goes black. "Welcome to Beirut," Barakat says. "Luckily, we have a generator."
With the lights back on, he says that Lebanon's artists are highly educated and uncommonly well traveled. "Of course," he says, "there are a lot of tensions and contradictions here that push them to take a position." I see what he means a few nights later when I join the emerging star Ayman Baalbaki for beers at a noisy Hamra café. While intermittently chatting with friends and discussing some of his beguilingly complex portraits and cityscapes, Baalbaki—a graduate of Paris's Ecole Nationale Supérieure des Arts Décoratifs, whose hands are tattooed with Native American proverbs in Arabic script—casually mentions that his father, a Shiite from southern Lebanon, was a prominent leftist activist; that his house was bombed by Israel in 2006; and that his sister is staunchly pro-Hezbollah and wears a chador.
These days you'll see plenty of burkas around Beirut, sometimes in unexpected places, such as the Hamra waiting room of plastic surgeon Tarek W. Husami. A favorite of the Botox-crazed social set (this is a town where banks offer cosmetic surgery loans), Husami has been dubbed "Doctor 90210," though it's clear when he lights a cigarette during our chat in his office that he's more Beirut than Beverly Hills. In addition to socialites, Husami's clientele includes belly dancers as well as royal wives from Kuwait and Saudi Arabia. The fact that the princesses from the Gulf states must be fully covered in public, Husami says, does little to diminish their craving for perfect lips, breasts, and buttocks. "When they're with each other, they're uncovered. So they get everything done."
Body work isn't the only secular indulgence drawing people to Beirut, where generations of repressed royals and ordinary Middle Eastern hedonists have come to do things that would get them scolded—or jailed—back home. In the Seventies, Italian playboys sampled the latest drugs at nightclubs like Les Caves du Roy, and a young Osama bin Laden haunted Hamra's flashy casinos and seedy bars. Today the shenanigans continue. At one luxury hotel last year, a group of rich Saudis took over a suite for an all-male soirée; after the rent boys arrived and the party evolved into a full-on gay orgy, the hotel's night manager discreetly went upstairs to have a word with the gentlemen—not to stop them, only to request that they move the action in from the terrace, so as not to cause trouble with the neighbors. An anything-goes vibe also reigns at Beirut's nightclubs, which tend to be packed to capacity—and beyond—as I see on the night I stop by SkyBar for its seasonal closing party, where 50 Cent is performing for a crowd of 1,800, half of whom seem to be clad in Cavalli. "We are breaking every fire code in the universe," says one reveler after a woman passes out next to us.
After years of exposure to war and its close cousin, decadence, many of Beirut's natives look at the world with a kind of seen-it-all fatalism, and they know better than to kid themselves about the city or its future. At the time of my visit in October, the United Nations tribunal had not yet issued the results of its investigation into the 2005 assassination of Prime Minister Rafik Hariri. The ruling was expected to implicate Syria and its Lebanese Shiite allies, and many feared that it would spark yet another round of chaos and killings. Others theorized that Beirut's current economic boom would prove to be its salvation—that there are too many people with too much money at stake to allow things to get as bad as they did last time, or the times before that.
How heavily these issues are weighing on the minds of the patrons at MusicHall, the raucous cabaret favored by both VIPs and birthday groups, is difficult to say. On the Thursday night I go to the club for a late dinner with owner Michel Elefteriades, he warns me that the crowd will be smaller and more subdued than usual, since Ahmadinejad is in town for his first state visit and much of downtown is closed to traffic.
By 11 p.m., however, the club is jammed as a 19-year-old Lebanese vocalist takes the stage to belt out an operatic cover of the Eurythmics' "Sweet Dreams." The place really gets going when Syrian crooner Hajj Issam, backed by a 12-piece band, sings a bittersweet ballad in which a suitor pleads with his beloved, using a refrain that could resonate on many levels in today's Beirut. "Just give me an answer," he sings in Arabic, "even if it's bad." Next, wild cheers greet the entrance of the Chehade Brothers, two oud-strumming Palestinians with long beards and knit skullcaps. And by 2:30 on an otherwise quiet Friday morning, most of the crowd are in the aisles, singing and dancing like crazy.