Bella Hadid Crashed a High School Prom in a Juicy Tracksuit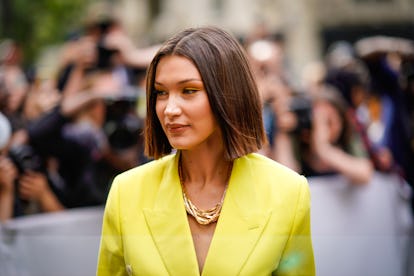 Edward Berthelot/Getty Images
As a supermodel, Bella Hadid has free reign to stretch dress codes to their absolute limit—like wearing a black Juicy tracksuit to prom. The creatively clad cameo took place on Monday night, when Hadid happened upon a group of Oceanside High students on their way to prom after she completed a nearby photoshoot, according to People. Then, she apparently agreed to board their party bus for a few minutes before going on her way. Although the 21-year-old didn't post any evidence of the encounter on social media herself, photos of the impromptu photoshoot later popped up on Twitter. According to one user, the Juicy-repping model was "gracious and kind."
While Hadid certainly looked fresh, it's safe to say this look was not a repeat of her own prom outfit back in 2013. At the time, her sister Gigi Hadid had tweeted a collage of numerous pics from prom night at Malibu High School, and in one, Bella can be seen smiling in a white mini dress with a matching handbag. Meanwhile, Gigi opted for a long-sleeve red mini dress with diamond cut-outs at the neck. In 2016, Gigi revealed that the outfit was apparently a hand-me-down.
"I wore my mom's stuff to prom. I never bought anything for prom," she told W in 2016. "I never owned anything designer until I started working. My mom had a beautiful closet and I kind of would play dress up, but she gave me an old vintage Prada bag for my 18th birthday and that was the first designer thing I'd ever owned."
"My senior year, I wore a red Herve Leger dress. Not the normal bandage, it was the one where they had the short sleeves and a beautiful braided neckline and stuff," she added. "I loved it. It was red, bright red, and short. In Malibu, we wear short dresses to prom because we live at the beach. The long-dress thing gets a little in your way in the sand and stuff."
Luckily, velour tracksuits go great with sand.