The Hadids Are Making New York City Their Playground This Winter
And Gigi Hadid's baby just had her first exposure to snow.
---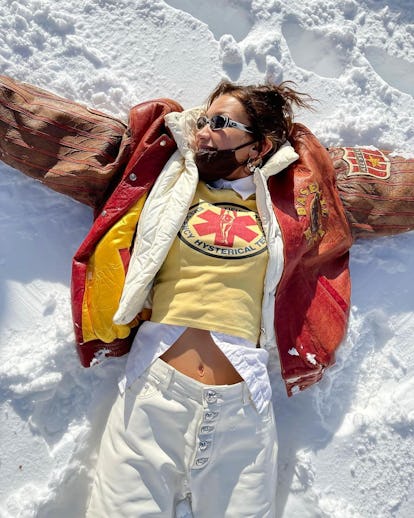 Image courtesy of Bella Hadid's Instagram.
On what was New York's biggest snow day of the year, fashion's favorite supermodel siblings just had to have fun out in that blizzard. We would expect nothing less of Bella Hadid and Gigi Hadid, who have been out and about together this winter in the city, matching in their all black getups (masks included, of course) while taking Baby Hadid for a brisk stroll through SoHo, or in Gigi's case, introducing her daughter to her very first snow.
Bella, however, opted for giving her 36 million Instagram followers "a snow angel special."
A special it was indeed—who else is brave enough to plop themselves down in the snow, wearing their Sex-embroidered white jeans, belly exposed and all. It was in the 20s and 30s throughout the day, so one has to imagine the supermodel was cold, but if she was, she really didn't show it. Nor did she fall when using her snakeskin boots as impromptu snow skates on a city sidewalk.
Their brother, Anwar Hadid, also made an appearance in the East Village on New York's biggest snow day of the year, wearing a Moncler x J.W. Anderson spiked puffer jacket sans mask. But he gets points for carrying his pup Dexter (whom he shares with his girlfriend Dua Lipa) so that his paws wouldn't freeze in the snow.
Of course the Hadid family has to have seen this much snow before—they do have a farm in Pennsylvania, after all—but to see them (at least Gigi and Bella, anway) revel in so much wintry delight? That's a holiday miracle.
Related: Bella Hadid Joined Gigi Hadid and Her Daughter on a Chic Stroll